Roundtrip Borneo, June 2004
Kundasang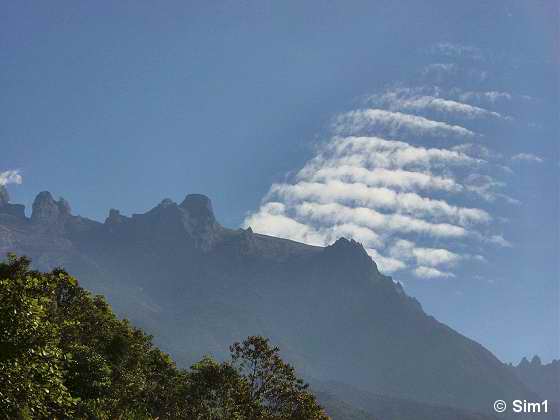 Mount Kinabalu
Good morning! After a little breakfast I am sitting on the deck at Mount Kinabalu. The plans for today are a visit to Kundasang and to Poring Hot Springs. But it is still early in the morning and before we go I have some time to spare and write in my diary. I have to admit that I have been neglecting it so enormously the last few days. But this morning is just a wonderful morning and a great moment to share some of my thoughts on paper :-)
The sun is shinning brightly and I am sitting on a sunny part of the deck. I can see the top of Mount Kinabalu from here while I listen to the cheerful sound of the many small birds and the noise of the cicada. Hahaha, I don't know how I can write while I am distracted by all this beauty surrounding me! The birds, the flowers, the sun, all the various sounds of the tropical forest, and of course the sight of Mount Kinabalu, made this a wonderful start of the day.
Beautiful Flowers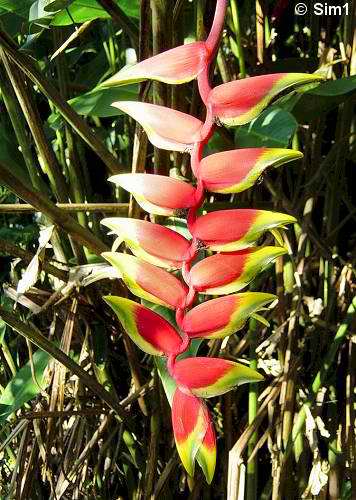 Beautiful flowers
Åke went for a nice walk, while I was being lazy on the deck. I had no idea where he was heading for until he got back. He remembered how I pointed out the flowers below our deck the evening before. But 'below' our deck wasn't so close by as it sounds... oops....
Åke made quite a detour to get there and when he got here had to face a 'not-so-friendly' dog. But he 'survived' it all and made this beautiful photo for me :-)) Isn't it a beautiful flower! I think it is called "Lobster Claw".
Where is Kundasang?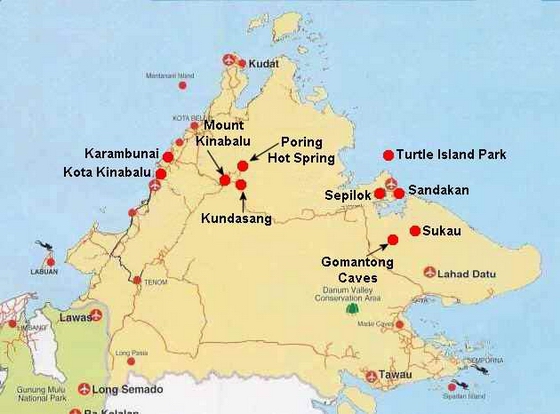 Map of Sabah
It is 9 o'clock in the morning; time to get on our way. The minibus is waiting outside and we are off to our first stop Kundasang! But where is Kundasang exactly.
Kundasang is in the State of Sabah on the northern end of the island of Borneo. It is located between the entrance to Kinabalu Park and the village of Ranau. When you click on the map you get an idea where it is located.
Kundasang is easy to reach. Just follow the road from the capital of Sabah: Kota Kinabalu to Kinabalu Park. Follow this road towards Ranau and you can't miss seeing the market of Kundasang on your left hand side.
Arriving in Kundasang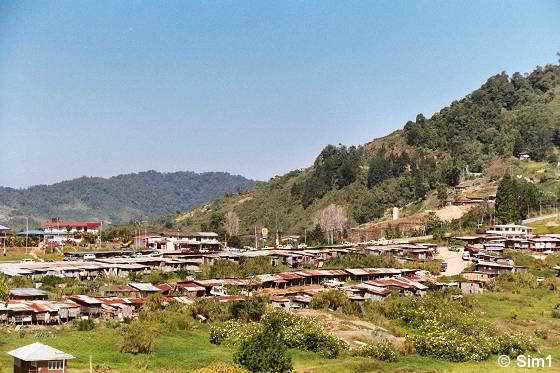 Kundasang
It was only a short drive with the minibus to Kundasang. And the view.... wow, fantastic! I took this photo when we arrived in Kundasang. In the foreground you can see a part of the village of Kundasang surrounded by farmers fields. And in the distance the always impressive Mount Kinabalu!
A beautiful sunny day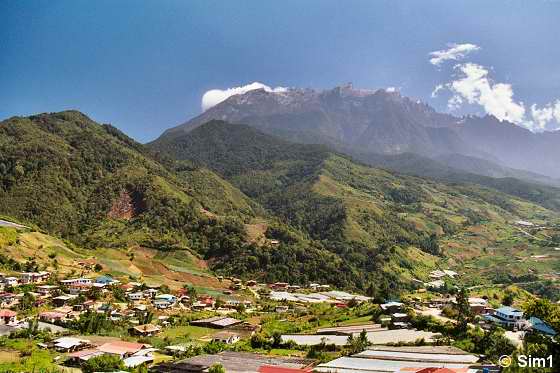 Kundasang
We were so in luck to have another one of those fantastic sunny days! Oh yes, it was hot outside with the sun burning without having any mercy. I guess it must have been well over 30 degrees that day. And yes, I would complain about that later on in the day, hahaha, but just right now it was perfect!
The market at Kundasang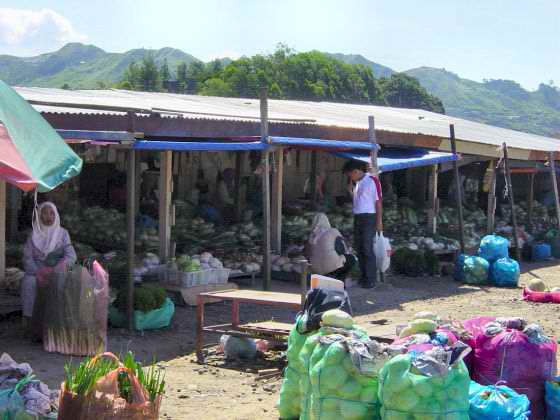 The market at Kundasang
We started off with a visit to local market of Kundasang. It is a big market which apparently goes on the whole day long. Yes, I know what you are thinking: a fruit market is a fruit market. And you're right! But.... for me this is a totally other world compared to Holland and Sweden. So I had fun walking around and taking in the different sights and sounds of this place.
Fruit, fruit and more fruit....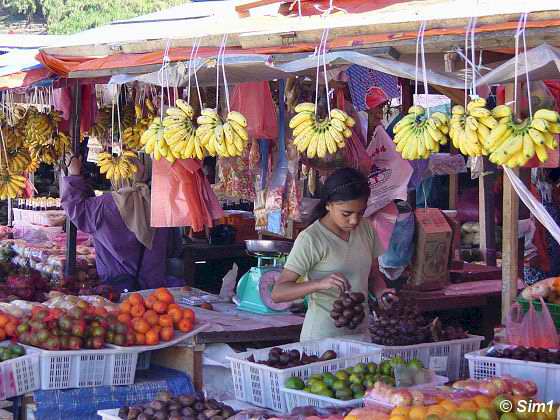 The market at Kundasang
One thing I enjoyed a lot was walk around and take a look at all the different things they were selling. So many things we don't have in Sweden. I was amazed by some of the fruits, some of them I had never seen before in my life.
You can find a lot of these fruit markets along the way, but the one in Kundasang is really big. These markets are great places to stock up on some fresh fruits as a snack during the day and evening. Delicious!
Fruit ready for transport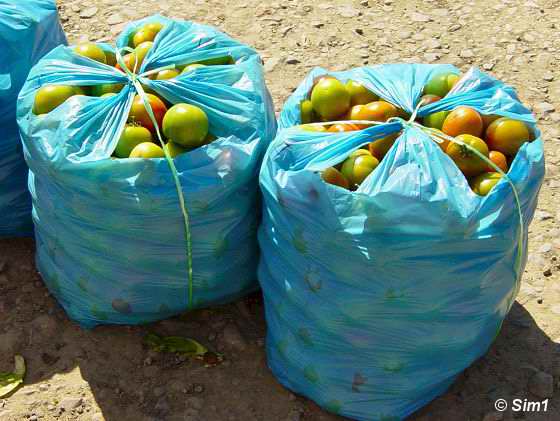 Fruit ready for transportation
The area around Kundasang is very fertile and all the products sold on the market are from this area. While wandering around here I saw a lot of market stalls selling the fruits directly to the people. But when I walked further on, the market started to change slightly. Instead of fruit stalls there were many places were they were making these big bags full of fruits and vegetables ready for transport.