Roundtrip Borneo, June 2004
Going to Sukau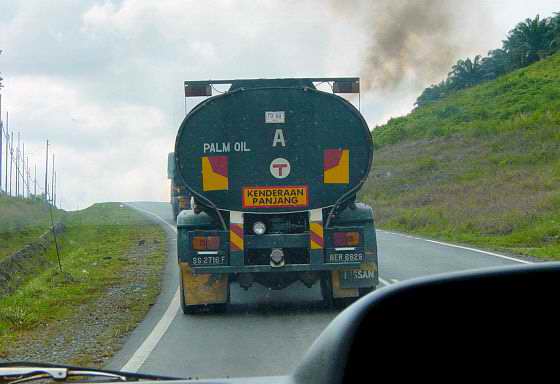 Palmoil truck
But not only on the side of the roads you will notice you are in plantation country, also when you look right in front of you, on the road itself. The road will regularly blocked by these big palm oil trucks. And as they are so heavy, they don't go so smooth uphill as you sometimes would like, slowing you down immensely. The only thing you can do is be patient, close your eyes, try not to scream and deafen your fellow passengers, and just hope your driver will overtake them with care :-))
Producing Palm Oil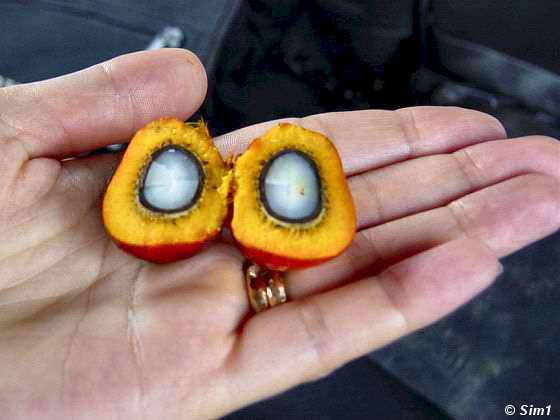 Palm oil pit
So this is the product where it is all about, the palm oil pit. From this they can make the palm oil, which is used in so many different products. The fruit is reddish, about the size of a large plum and grows in large bunches. The oil is mostly used in soap, but also in lots of food products like chocolate, margarine, biscuits, chips and muesli. The edible oil is only produced from the inside of the fruit, so that is the white part shown in the picture. Okay, I'll stop..... end of lesson.... hahaha, lunchtime now......
Roadside restaurant in Seguliud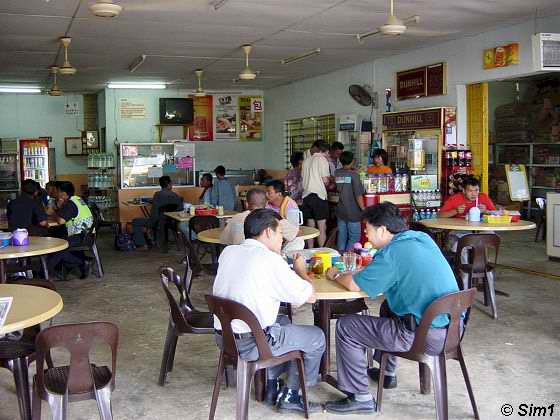 Roadside restaurant in Seguliud
Finally lunchtime! Wow, I was glad to get out of that bus for a while. We stopped at a little roadside restaurant in the village of Seguliud.
The original plan was that we should have a lunch pack with us, so we could eat somewhere along the way. But we all voted for going to a roadside restaurant, so we could eat some Malay food instead. And I didn't regret that! The restaurant was a typical small place for travellers, nothing much to look at. But the food tasted good and it was fun to try out some different dishes.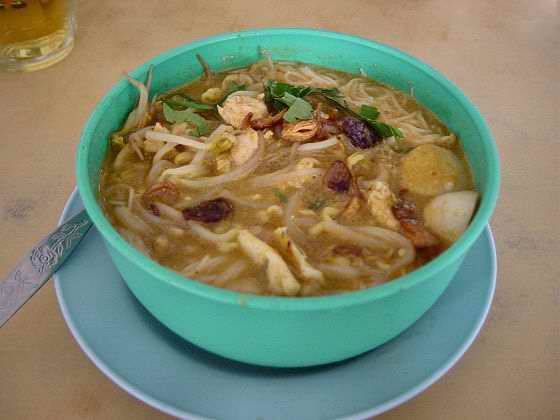 Kari Laksa
On the wall of the restaurant we could see the menu. There were 35 different dishes to choose from, hahaha, but unfortunately I had no clue what they were when reading the menu. Some I recognized again, or at least parts of it, so that gave me a bit of a clue what it would be.
With a little bit of guess work and some tips of our guide, I choose for the Kari Laksi and Åke had a Nasi Asam Pedas. The food costs next to nothing here. Each dish cost about 3,50 - 4,00 RM, that is about 0,80 Euro or 1 USD. No money at all for some good tasting food!
Lower Kinabatangan Wild Life Centre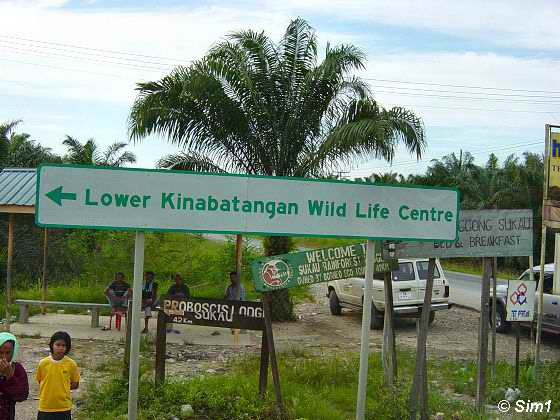 Lower Kinabatangan Wild Life Centre
After our great lunch it is time to get into the minivan again. The road continues and so do the endless rows of palm oil trees. The journey seems endless. But we finally get to the crossing for our last little bit of the trip. We turn left on an unpaved road that will bring us to the Gomantong Cave and the Lower Kinabatangan area. Our stop for the coming days.
Long dusty road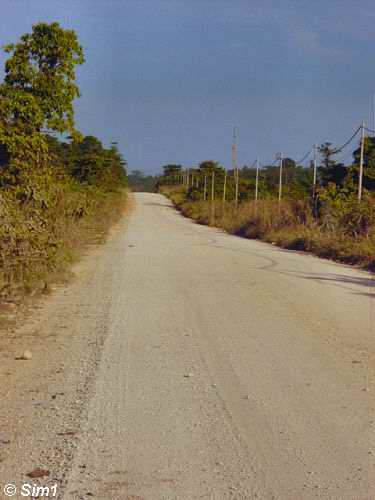 Long dusty road
But this last little bit of the journey isn't easy. We are on an unpaved road now, it is bumpy, shaky and dusty. We still have 25 kilometres to go before we get to the Gomantong caves.
After only 1 kilometre I already feel like a milkshake; this road is so bumpy! But the excitement that we are getting close to our next stop makes us forget about that. 1 more hour of 'shaking' to go and we are at the Gomantong cave!
Selamat Datang Ke Gomantong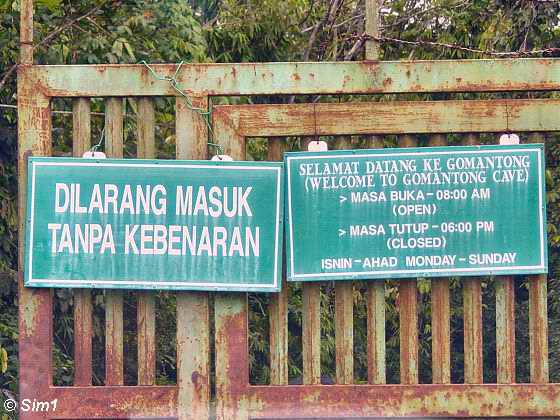 Selamat Datang Ke Gomantong
Selamat Datang Ke Gomantong / Welcome to the Gomangong Cave! We have finally arrived at the entrance gate of the Gomantong cave. The gate looks old and rusty, hahaha, not the best-looking 'welcome' to the cave. But I guess the ones that drive this far don't care about the gate, but just want to see this cave. From the gate it was another 5 kilometres on a bumpy road to get to the trail that leads to the cave.
The Gomantong cave is the largest cave system in Sabah. But the reason why it is so famous is that it is home for over one million swiftlets. A swiftlet is a type of bird and their nests are collected for the famous Chinese 'bird's nest soup'.
Camera fee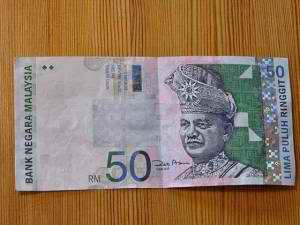 Camera fee
Unfortunately it is not allowed to take pictures in and around the cave without paying a camera fee. For a normal camera we had to pay 30 Malaysian Ringgit, which is about 8 USD or 6,50 Euro. A bit too much we thought, Especially considering that it would be hard to take pictures inside the dark cave anyway.
So unfortunately I can't show you any pictures of the cave and of its various 'inhabitants'. But instead I'll try to paint you a picture with words in the next few tips. Hahaha, I have a feeling that is going to be impressive enough, as some of these 'cave-inhabitants' are rather creepy ;-))