Northern Sweden
Padjelanta Tour 2006: Tarraluoppal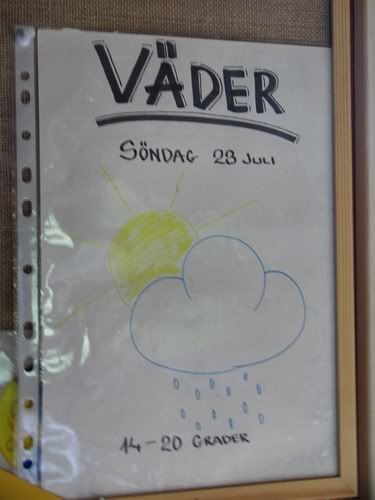 The weather forecast
Sunday morning, the 23rd of July
Early mornings always seem to be the most difficult part of the day in the Fjällen for me. Inside the tent is relatively warm and cosy, especially inside the super comfortable and warm sleeping bags, but outside, brrrr, I know it is cold! With temperatures dipping to around zero Celsius at night, and only slightly above during the early morning hours, I always seem to find it hard to get up and moving. But as usual after a (long) while I gather enough energy and courage to do so.
I quickly run from the tent towards the mountain hut of Såmmarlappa which is about 50 to a 100 metres away (don't really know, hahaha, but it feels forever when running towards it in the rain, lol). There is a drizzle of rain outside, and I feel a bit worried and dubious what today's weather is going to bring. Inside the mountain hut it is cosy and warm, and not only warm in temperature, also warm in feeling, as it is so welcoming to go in here. The kettle is already on for a cup of tea, and a sunny smile is greeting us from the weather chart. A mixture of weather it promises us on this early Sunday morning, the 23rd of July, with some rain and temperatures ranging from 14C to 20C. But the part that catches my attention the most is the nice bright yellow happy sunshine peaking out from the clouds.
Woods and meadows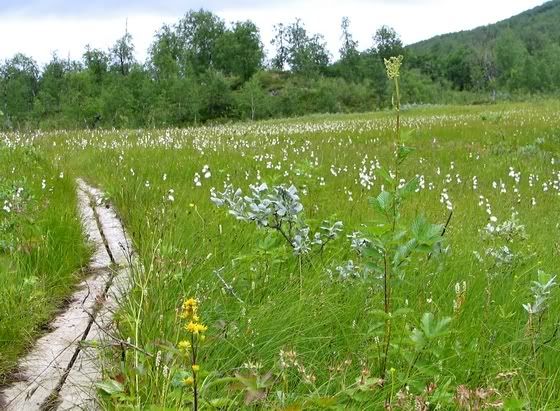 Polarull, Eriophorum scheuchzeri Hoppe
It seems like the weather prediction is not that far off, with a mixture of rain and clouds and temperatures around the 15C. The sky seems to be playing a game with us today though, one moment a drizzle of rain, slowly changing into a flow of thicker rain drops. Sigh, letsput on the rain gear again..... By the time I completed the struggle of taking off my backpack, finding my rain clothes and putting them on, the sky dries up again, and leaves me standing there in the middle of nowhere feeling totally frustrated. Okay, let's try it one more time without the rain pants..... mutter... mutter...
I don't like to wear full rain gear for a long time if it is not necessary, so I try to bear with the weather as long as possible. The landscape isn't so bad though for doing this fashion show, as it is beautiful out here! The drizzle of rain stopped once again, and we arrived in this lovely meadow filled with a flower called Polarull in Swedish, or the Eriophorum scheuchzeri Hoppe in Latin or Scheuchzer's Cottongrass in English. This flower is not a stranger to this area, in fact it is quite common in the whole Fjällen area and Padjelanta National Park is no exception to this rule. This grassy plant, which looks so cute because of it little fluffy wool-like top, reaches a height of 10-30 cm and can be seen in bloom during the month of July.
A perfect picnic place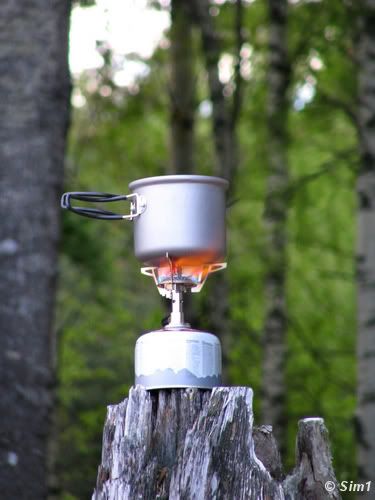 Time for some hot soup and a cup of tea
Once again the trail leads through a forest of birches, leaving not that much chances for a nice place to stop along the way. But no worries, there is a perfect spot for a short break or picnic when you arrive at the river at Slihtavagge. It is roughly about 4 to 5 kilometres from Såmmarlappa to get to the river, so perfect timing for all those that are by now craving for a hot cup of coffee or a hearty bowl of soup. Be clever though, make the soup at the mountain hut of såmmarlappa and bring it with you in a thermos. This will save you time and energy during your hike, especially when the weather is not that good. The hot soup will warm you up and give you some well needed new energy on a cold and drizzly day.
We were in luck though, as ones again, the drizzle of rain had stopped and even the clouds were slightly threatening to get out of the way and show us some sun. So we dropped down on an improvised bench, enjoying our soup and listen to the thundering noise of the river in front of us. The only way to cross this river is by a bridge and a sturdy one in this case as well. After that the trail goes up a bit, and then...... according to the map, there should be the entrance to Padjelanta National Park! It took us three hiking days to get here, but finally we arrived at the National Park we both have been longing so much to see.....
A shocking change in landscape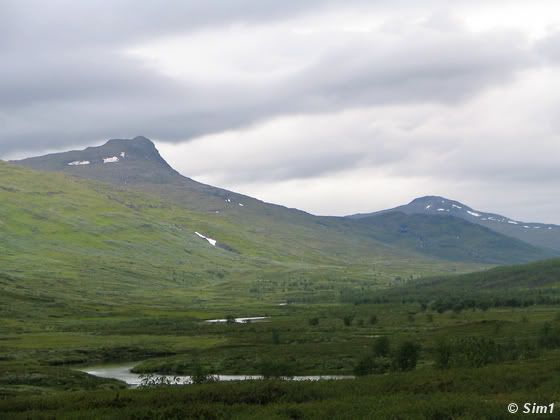 Padjelanta National Park
It is only a short steep climb up from the river at Slihtavagge and then all of a sudden the landscape opens up. Before your eyes is the immense landscape of Padjelanta National Park. The sudden change in landscape is so very shocking, from endless days in the forest to, without any forewarning, this wide open valley and views as far as the eyes can reach. The photos don't do this landscape justice; no they are not even close to showing its true beauty. But it is engraved in my mind and heart and I wish I could share this moment with you somehow.
While I write down these memories I get goose bumps again and tears cloud my eyes. Yes, these are the exact same feelings I had when standing there, at the entrance of Padjelanta. The only thing not present now is the pounding heart and heavy breathing, while trying to catch my breath after the short steep climb. I wonder how my face must have looked, probably stunned, and in awe at the same time. I remember not being able to utter words for a few minutes as the landscape totally absorbed my mind and emotions. Yes, we are finally here, at Padjelanta, and yes, this is only the very beginning of what Padjelanta has to offer.....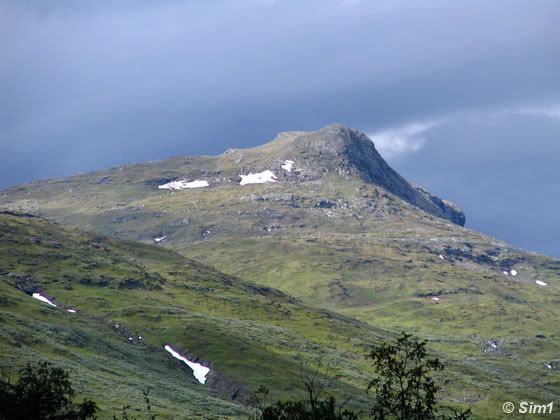 Padjelanta National Park
Padjelanta National Park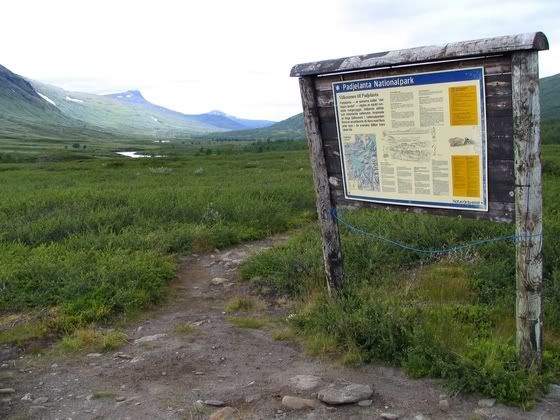 Padjelanta National Park
In the rest of this page and also the following pages you can read more about my experience in Padjelanta and the beauty this national park offers. But maybe now, while standing at its entrance and at the welcome sign to the park, it is a good time to give you a short intro to the park.
Padjelanta, or in the Sami language called Bádjelándda, means the "high land" which is an appropriate name, as almost the whole national park is located above the tree line. It is Sweden's largest National Park with an amazing 1,984 km2 in size. But the park is not on its own, it is surrounded by nature reserves (as was the area I hiked through so far). It is also connected to two other amazing national parks called Sarek and Stora Sjöfallet. Padjelanta is also part of an even larger area called Laponia, which is sometimes referred to as the "last wilderness of Europe".
There are no roads that lead to Padjelanta, only this hiking trail. No cars in sight, not even close. If you want to see this, you need to walk. The only way to get here is by foot, or, if you like, helicopter in to the Sami village of Staloluokta. But from there you have to make your way again on foot. The landscape is wonderful, large lakes, open mountain landscape and exceptionally varied flora and fauna. If you are lucky you might catch a glimpse of a snowy owl, arctic fox or wolverine. But without a doubt you will meet some reindeer, as Padjelanta is a valuable grazing land for reindeers. And with the reindeer come three tiny Sami villages, which are all located very isolated in this beautiful highland area. Padjelanta is a special place, but at the same time not demanding. The only way to get here is on foot, but everyone that is in a reasonable condition can make that walk. In short: Padjelanta is a place to fall in love with..... just as I did.
Not really 'out of the woods' yet


Dwarf Cornel, bunchberry
Although the landscape opened dramatically in front of us when entering Padjelanta, we are not really 'out of the woods' yet. For once again we dive into the woods on a winding path that seems to go on forever. It does feel more like wilderness here as the trail isn't that easy to walk. I am manoeuvring left and right to avoid branches hanging over the trail, whilst we are climbing up and down, not knowing where the path is going to lead. The dense growth of small trees is blocking all the views and we have no clue how far we have to go.
The map indicates that we have to walk quite a bit through this overgrown area, but we have lost track of time and distance and start to wonder how far this 'far' is going to be. While we stare at the map and try to locate our position, the little flowers of the Dwarf Cornel (bunchberry), smile at us from the ground. They seem to thrive here in this forested area, whilst enjoying the warmth of the afternoon sun. A smile appears on my face, let's brighten up, it really can't be that far anymore!