Northern Sweden
Our hike to Alesjaure


Crossing a stream
Oops.... the easy hiking stops just here. In front of us is a little stream with just one plank over it. And I have this heavy backpack on my back which makes me not so sure about my balance. It shouldn't be so difficult to cross, if it wasn't for this %¤! backpack!
The distance is too long to cross it in just one or two steps; I really need to keep track of my balance here. A worried look. Can you feel I am nervous? Yes, I am nervous! Very nervous! Not that it is so bad if I would fall in the water. I would get wet, hmmmmm.... not a good idea, but I would survive it! But then again: I could twist my ankle too! Absolutely NOT a good idea being so far away from everything. Okay Simone... now don't be so stupid. It is just a little plank a few metres to cross, no big deal? Or?? More nervous...... Why isn't there a normal bridge here??! This is the Kungsleden! The hiking highway through the mountains! There should be a normal bridge here, I reason on. Hahaha, how little did I know then of the challenges that would cross my path later on during my hike.
Looking to the left for other ways to cross this little stream... nothing. No options on the right either. No other planks that can come to the rescue. Okay, I guess I just have to cross it then. Åke is already on the other side of the stream, hahaha, piece of cake for him of course. Here we go.... one, two, take a deep breath...... and yes, I made it in one piece to the other side. Of course I didn't get any wet feet or twisted ankles. That is all just in your head. A lesson you will learn in the Fjällen is that you can do much more than you ever thought. And this little bridge was just the beginning for me....
Running up the mountain


Little stream and waterfall towards Alesjaure
How moods can change so quickly. One moment I am in doubt and very nervous and the next: well; I just feel so happy, cheerful and relaxed. Only a few metres from the previous stream we cross another one. An easy crossing this time...phew :-)
My eyes follow the stream and up there, on the mountain, I see this waterfall. I have to go there!! I decide. So I just toss off my backpack there and then and shout to Åke, who is a few metres behind me, "I am going to climb up the mountain to take some pictures of that waterfall!!!" I laugh and I continue to explain: "We've got alllll the time in the world today! It's only a few more kilometres to Alesjaure!" "Byeee!" Hahaha, a stunned look by Åke and a big smile :-) "Wait, I'll follow you!" he shouts back while taking off his backpack as well. Too late! I am already charging up that mountain with the camera in my hand.
I follow the little stream upwards and make my way through the high grass and flower fields. It is so beautiful here! I suddenly realize that I am gasping for air: oops, this is steeper and higher than I thought! More walking up the hill, but now in a slower pace. my heart is beating loud and my lungs feel heavy. Hahaha, don't give up now! You're almost there! Åke catches up with me by now and we walk the last little bit together. The valley lies below us, and from above we hear the roaring sound of the waterfall. Yes, it is every bit as wonderful as I hoped it would be.
A wonderful view from up there


A wonderful view
Look at that view! Isn't it stunning! The clear blue colour of the Lake Alisjávri and the sound of the roaring waterfall beside us, The little stream working its way down into the valley. The green fields and the blue sky.... yes, you see that right: a blue sky!
The sun has come out by now. I can feel the warmth right away and everything seems to cheer up instantly! The mountains are green, there are bits of snow on top of the mountain, and even here on the edges of the waterfall lies snow and ice. And the lake, yes the lake is amazingly blue. It might be quite a climb up, but it is so worth it!!! We sit down for a while to take it all in before we start our descent down again.
The longest travel is the one getting here


Alone on the Fjällen
Most people have asked me how much I have hiked during my trip. But to be honest: does it really matter? Does distance matter? Is it better to have hiked 200 kilometres instead of a 100?
A strange question maybe, but it is something to think about. Moments, like the one I described in the previous tip, are the moments to remember. It is all about to feel the Fjällen, to experience the Fjällen.
"The longest travel is the one getting here". Do take off that backpack so once in a while and just enjoy all you see around you. And when planning a trip: don't only focus on what you can hike on a day (if you want you can hike endlessly), but please plan in some days (and afternoons) to give you the opportunity to just sit, relax, and take it all in. It will make your 'fjäll' experience so much more amazing. Oohh.... and it might rain once in a while here too, hahaha, and in that case a resting day is good as well, lol ;-)
The photo you see is taken about 4 kilometres (or maybe even less) before Alesjaure. And that little dot in the picture: yes, hahaha, that is me! :-) And I feel so very happy. The landscape is beautiful, and I love this hiking experience. It is my first time going on a long hiking trip like this, being away from the world for more than a week, and I just love it! For today we have one BIG obstacle left, but with my cheerful mood, that is not going to be any problem..... or?... is it??..... ;-)
Crossing the river through icy water


Drying my feet after crossing the river
Oops obstacle.... another stream.... and a BIG one this time! And uuuuhhh..... where is the bridge???? Mmmmm, no bridge..... *Thinking*...... this must be what they call a "vad" in Swedish, hahaha, a river without a bridge! So take of your shoes, put on some shorts, sandals, and yep...... we are going to wade through ice-cold freezing water!!!
I still feel cheerful, even after realizing I have to cross this river; I feel I can do this. Åke seems confident and without any doubt, and that gives me a good feeling. Standing on the edge of the stream I look up, and I see the snow on top of the mountain that has produced all this water, brrrrr! The water looks so cold!!! The stream is rather wide, 10 to 15 metres, but the water only gets halfway to the knees and the current isn't so strong. Carefully I make my way through the water over the rocky surfice below it. And yes, it is just as cold as I feared it would be! But I clear it with a smile and a laugh :-) Piece of cake! :-)) My feet feel numb of the cold, but I feel happy. I passed this new challenge without any problems. I feel more and more confident with every hour I hike. So many things I never dreamed of doing before, and here I am, doing it, and enjoying it to the fullest. I dry of my feet and change back into my hiking shoes again. I feel relaxed and enjoy the warm sunshine on my face.....
From here on it is an easy hike to Alesjaure. Estimated arrival time 2 o'clock in the afternoon.... that gives us plenty of time to relax, enjoy the views and do a little exploring of the surroundings.....
Setting up the tent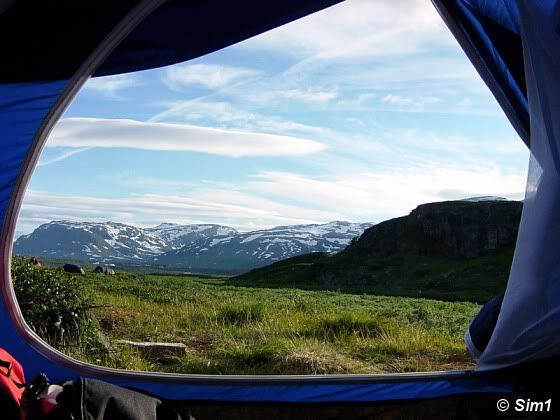 Setting up the tent
As we had the afternoon off in Alesjaure, we decided to take some time to explore the surrounding area. Close to Alesjaure is a little Sami village called Alisjávri, beautifully located on the lake with the same name.
"Alisjávri" means "Alesjaure", but spelled in Sami. And the word "jávri" or "jaure" means lake. So it is Alis or Ales Lake :-) Reading maps can be quite confusing in this area though, because the names are sometimes spelled in Sami and sometimes in Swedish on the same map.
From the Alesjaure Mountain Lodge you can see the Sami village. It looks picturesque with its colourful houses beside the blue lake. You can't really walk to the village, because there is a little creek you have to cross to get here. But we were not so eager to visit it. There wouldn't be so much to see, it is quite your normal village, but one or two more unusual building, that are / were typical for the Sami.
But who are the Sami?
The Sami are an ethnic minority and the indigenous people of Sweden, Norway, Finland and Russia. The area the Sami inhabited, today called Sápmi and it stretches from Idre in Dalarna in the south, to the Kola Peninsula in Russia to the northeast. I'll tell you a bit more about the Sami in my "Background Info" pages.