Northern Sweden
Hiking from Alesjaure to Unna Allakas

July 12th:
Today's hike is from Alesjaure to Unna Allakas. On paper it all seems like a great trip... but..... things happen... weather happens....
The flag of the Swedish Tourist Association (STF) at our campingsite is waving in the wind and the blue sky makes a beautiful background. But this was yesterdays photo, and yesterdays weather..... today it is a whole different story.......July 12th: it is early morning and I feel sleepy. The night was 'different' this time, no nice and quiet sleep, but a tent that was shaken about heavily by the wind and keeping me awake during most of the night. If I thought the wind during the evening was bad, then I was wrong, during the early morning hours it was even worse. The wind got so strong that it took a big pleasure in blowing my tent out of 'shape'. Instead of looking like a cheerful blue bubble (the way it looks on a nice summer day) with nice and lots of room inside to sleep, it was now changing shape often to a more flat piece of material, clung to the ground, with me inside desperately trying to hold it up a bit and out of my face.... certainly not the best of sleeping conditions! Not that the tent would go anywhere, it was safely pinned to the ground. But the comfort inside was a different story, lol :-)
Realizing that getting more sleep this morning would be just a daydream, we got up rather early. A nice and long breakfast helped us wake up and we were ready for a new challenge with new energy. With some careful planning and good laughs we managed to get the tent down, our backpacks packed and everything ready to go, without loosing any items blown away by the wind. Unna Allakas, here we come! Just 20 kilometres, one mountain and a few river crossings ahead of us... :-)
Leaving Alesjaure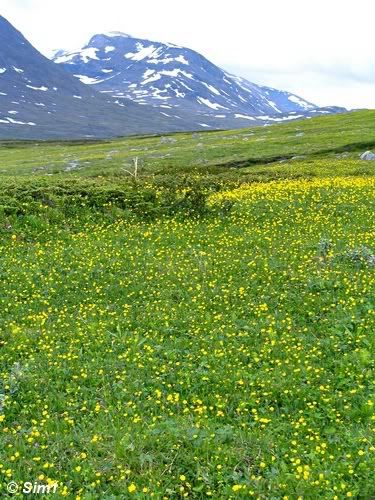 Valley filled with flowers
We are on our way, and the first part of the hike is going back 2 km's on yesterdays trail. Easy peasy! :-) We are in a good mood and not so concerned about the weather, so we walk on feeling relaxed. We hike again through the 'valley of the flowers'; always a wonderful site to see, even this second time around. The slope of the mountain is filled with a mixture of "buttercups" and "smörboll" ("Globeflower" in English) and the whole landscape comes alive by the yellow glow of the many flowers.
After two kilometres of hiking the trail goes up and up the mountain; it is a steep climb beside a waterfall. Slowly we conquer the climb, but the struggle isn't over any time soon: after this first steep climb awaits us a wading through a freezing cold river. This wade is not as fun as yesterdays wade though! Today it is cold and very windy, and unfortunately my fear of height is starting to play up. I am getting the trembles with the idea of wading through this river with a steep cliff beside me. I almost go into a panic attack, but luckily, somewhere halfway crossing the river I seem to get it under control. I made it safely to the other end. I quickly put on my shoes back on to get them nice and warm again. A sigh of relief and I am ready to go again.....
The weather gets bad


Hiking towards Unna Allakas
The wind is blowing hard, pulling on my hair and clothes and most of all it is pulling hard on my backpack. My cheeks have turned red from the icy cold wind and the sky is filled with dark clouds predicting no good about the weather that is heading our way. Trying to talk to Åke, who is a few metres in front of me, is almost impossible. The wind is thundering in my ear blocking every other sound. The only sound that seems to get through to me is that of the material of my backpack, which is flapping hard from side to side by the force of the wind. I see Åke talk, the movement of his mouth and he seems to try and shout something to me. But the sound is blown away in the far distance, not even close for me to hear anything.
But I am still smiling, well... sort of, lol, I am trying to anyway :-) This is my first time hiking over ice and snow during our hiking trip: it's different and challenging to try. I make my way across, slowly, but without any problems. I take my steps carefully, the slippery ice and the fear for unstable areas due to melting water running underneath the snow pack, makes me aware that this is not without a risk. I start to realize that it is very tiring thing to do and looking up the mountain I realize it won't be the last bit of snow either........
Up, up and more climbing up.....


Hiking towards Unna Allakas
The trail continues as we are climbing up to 1250 metres. It has not much to do with hiking anymore; we are struggling our way through the pass in a full storm, balancing over huge boulders while the wind is trying to blow me over. We are slowly making our way over big areas of snow... icy rain in my face. I get the doubts. I am really not sure if I will ever make it.... I keep silent. Åke must be confident. I hope he is. I am not.....
After hours of struggling.....


Hiking towards Unna Allakas
Nervous I climb on; meter after meter, and every meter seems to be a fight. My mind is full of doubt, part of me wants to return back to Alesjaure, but then what? Returning back doesn't seem like an option, but neither seems going forward. I move my feet, one before the other, trying to block out the thought from my head. One foot, another, loosing balance by the wind, don't fall now.... moving the feet again... one feet after another after another...... meter after meter I struggle.....
It is far after lunchtime by now and my stomach reminds me of that. But the landscape is bare and there is nowhere to get some cover from the wind to sit down for lunch. Luckily we see a very big boulder in the distance, our safe haven for the moment, a place to rest, away from the wind. The lunch consists of knäckebröd and a chocolate bar, not the most perfect lunch you can think of, but it felt like luxury to me. It would be impossible to cook our usual lunch of a filling and hearty soup in these conditions. But we are glad to sit down for a minute and get some energy into our bodies. Chocolate and knäckebröd just have to do the trick for now. We talk about the option of going back, but the vote is unanimous, we both want to move on. We haven't even done 1/3 of the way, but we know we can do it. We are going to do it!!! Our minds are made up, now I am just hoping that my feet will agree with my decision....
One last bit up


Hiking towards Unna Allakas
I continue with a much more possitive mindset. Yes, I am still worried, hahaha, it wouldn't be me if I wasn't! But I know we can do it, that I can do it! So we move on. I check the map regularly to see our progress and look behind me from time to time and see that we do move on. Not far anymore before we will reach the top and have conquered this pass. The hike probably will get a bit easier when we descent on the other side and follow trail through the valley towards Unna Allakas. I crawl a bit deeper into my rainjacket, I tighten up my sjawl, and put on my gloves to keep me nice and warm. One feet before the other, one meter after another..... and a faint smile, because I realize that I can do this!
Hiking trail


Hiking towards Unna Allakas
What I didn't know at the time is that this pass between Alesjaure and Unna Allakas is known for its windy conditions. Unlucky us got the full blow here on the mountain top. But it does remind me again and again to have respect for nature and realize that I am just a very tiny dot on this big planet.
Just before reaching the highest point of the mountain pass our hiking trail joins the trail of the snow scooters: the so called "winter trail". The winter trail is easy to recognize by the red-crossed signs as you can see in the photo. The summer trail which is the hiking trail isn't as easy to recognize though. Instead of big signs like this you have to concentrate on the ground. Big boulders and / or smaller stones have colourful red dots on them, indicating the trail. These 'dots' are sometimes rather far apart, but as the area is so open and it is rather clear in which direction you need to go, it isn't hard to follow the trail and stay on the right track.
Happy moments


Hiking towards Unna Allakas
Finally, we made it! We are 1/3 of the way, but this seems like the milestone during the hike. We've made it through the mountain pass and the valley in front of us opens up. I am dead tired, and I know my hiking trip must have sounded aweful until now. But something strange happened, something so unexpected......
Standing on top of the mountain overlooking the view, feeling the icy rain on my face, the wind blowing around my head, not having seen any human being since we left for our hike and knowing we still have a long way to go over difficult terrain all alone and all by ourselves...... right here and now I have one of the happiest moments of my life. I can't explain it and it must sound so strange. But just standing here, sharing this moment with my love and husband Åke, overlooking this valley this amazing piece of nature, seemingly untouched by people..... I just felt overwhelmed by happiness. This is a feeling you get in the Fjällen. I don't think there are words to describe it, you can only feel it.
A few minutes we stand here, just by ourselves, overlooking the valley, forgetting about the weather, the trail, we look at each other and we know we both feel the same. Happy. For me this is the Fjällen.... and this is how I will remember it.