Northern Sweden
Hiking from Alesjaure to Unna Allakas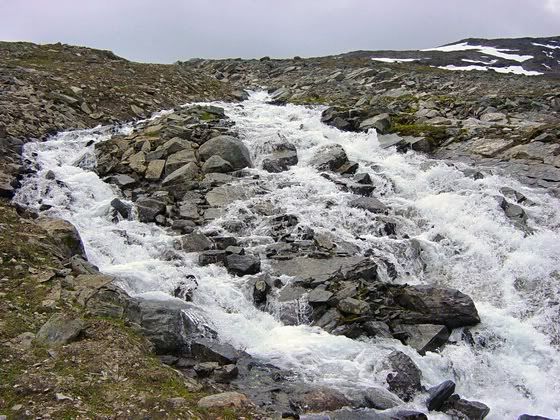 Hiking down towards the river Snarapjohka
We start our descent into the valley. The trail is steep and tricky at certain point because of the loose rocks on the trail, making it easy to slip down. Beside us is a roaring waterfall, following our very step until we get down into the valley. There, far in the distance, we see a tiny little dot. Would that be a human being? It is hard to see as it doesn't seem to move, but after a while when we get closer the shape gets more clear. Yes it is a human being! A lonely man hiking in the opposite direction. As people are so rare on this trail we all stop for a friendly talk. Weird how great it can be to meet a stranger in this empty landscape. We exchange hiking experiences and discus the conditions of the trail. We learn what is ahead of us. First of all a river crossing and not an easy one either! Oh well, a river, how bad could that be?
I think in retrospective that this was the hardest river to cross during our hike. Probably the river is easier to cross most of the time, but the water level was high today and the current strong. And maybe most of all; the river was wide! We do our usual ''river crossing routine'. Changing shoes into sandals, wearing shorts instead of long trousers and take a deep breath to start another challenge: Freezing cold water as usual, the unstable rocky surface of the riverbed making it hard to keep balance and the current trying to drag our feet away from below us. And it almost worked.... eeks.... I feel like loosing my balance, but I withstand the current and move slowly on. The dangerous part is that my feet are loosing all sense in them because of the cold water. They are numb, all the way from my little toe up to my lower leg. The water gets up as high as my knees and there are still quite a few metres to go. I don't know how wide the river was, but it seemed like forever. But I made it! And I feel proud! Another hurdle taken, another proof that I can do much more then I ever thought was possible :-)
The "Valley of Water"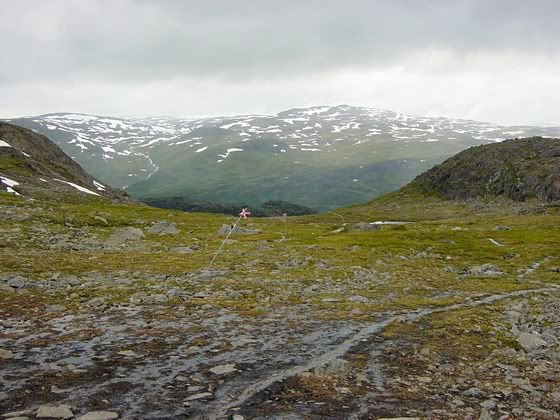 The "Valley of Water"
In the beginning of the day I hiked through the 'Valley of the Flower", hahaha, and I guess I could call this the "Valley of Water"! On the left side a mountain from where a lot of melting water runs down, on the right side the river and in the middle this greenish area and hiking trail filled with water puddles and little flowing streams. In short: lots of water! As I already described in a previous chapter: this is my first 'real' hiking trip. Over a week in the wilderness with a backpack on my back. As it is my first, I hadn't the best of equipment with me. And one that certainly lacked some desirable features were my shoes. They were comfortable, they were stable, but no way could they withstand this amount of water! Hahaha, there I was proudly crossing the river without any troubles and now getting very wet feet after all! So after a while I just gave up trying to avoid the water. How wetter then wet can feet get? So take this advice from me: when hiking in the Fjällen you need some very good hiking shoes! I have those now, so I am not worried for similar areas again next time around :-) I learned my lesson!
Feeling lost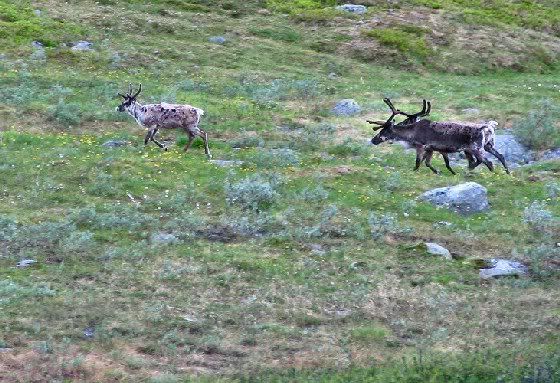 Reindeer
The area are hiking through is rather easy to do. But it is much longer then it appears to be on the map. So for a tiny moment we lost track where we exactly were. It felt like we should almost be at the Mountain Hut of Unna Allakas; but were we??? Some confusion... studying the map. But heee.... look... there.... reindeer!! Hahaha, nooo, not on the map! Over there, beside the hiking trail! What a wonderful sight to see! My first group of reindeer in the wild! They belong to the Sami people living in this area; maybe someone of them could point out where we exactly are? But the moment that thought popped into my head, I also remember that the reindeer herds don't live near the Sami villages. The summer habitat of the reindeer is often located far away from the villages. Wow, so strange to realize that there is no one around here to ask for directions! It sure is different walking here in the wilderness! Yes, of course, I could ask those reindeer, hahaha, but I don't think they would give me an answer ;-)
We concentrate again on our map and the little climb we just crossed. We still have a few kilometres to go.... we better move on, it's getting late already......
Reindeer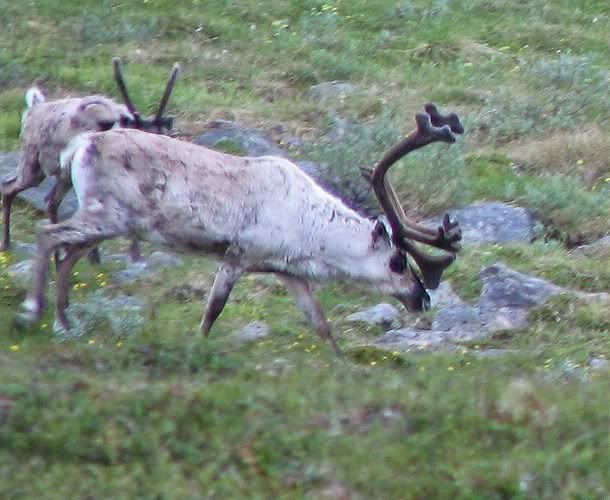 Reindeer
The chances of seeing reindeer in this area are quite good. I saw several of them during my hike towards Unna Allakas of which one very large group just before coming to the lake Allagasjavri. It was really great to see such a large group. They are shy animals though and probably will try to get away from you as soon as they spot you.
The reindeers here in Northern Sweden are domesticated animals and they are raised for their meat, milk, hides, antlers, and for transportation. Reindeer that live in the wild in North America are known as Caribou. And did you know that Reindeer antlers grow again each year? If you want to know a bit more about the Reindeer why not look it up on Wikipedia where you can find lots of info and facts about them:
http://en.wikipedia.org/wiki/Reindeer.
Unna Allakas!!!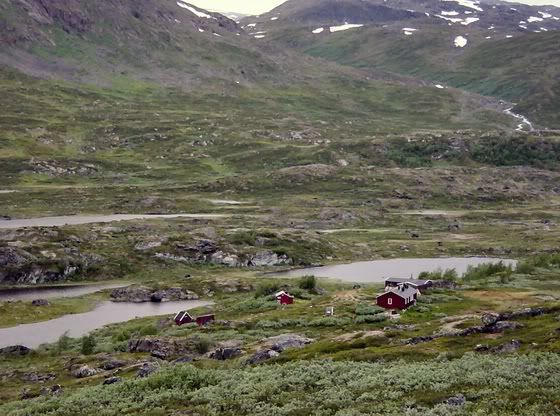 Unna Allakas
We made it!!! After 20 kilometres, 9 hours of hiking, wading through 2 rivers, climbing up 600 metres and down again 800 meters, I can see the Mountain Hut of Unna Allakas in the distance. I am dead tired and the last little climb of 100 metres up has taken the last bit of energy out of me. The rain is becoming more and more dominant by the minute, but I can see it, our home for the night! Unna Allakas! :-)
Warm food, a hot cup of tea, my feet up, a warm fireplace and a nice and warm bed to sleep in :-) With all these thoughts in my head I slowly make the descent down to the Mountain Hut. Åke found a last bit of energy and seems to fly down the hill like crazy. hahaha, with a smile on my face I see him fly off. I wish I could walk as fast as that, escaping the rain, but I just can't find the energy anymore. Who cares about the rain anyway, I am almost there! :-))
Cosy and warm inside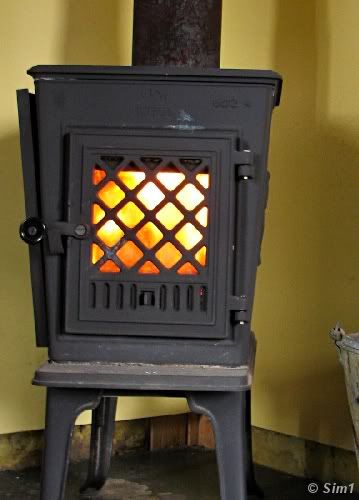 Cosy at the fireplace
Unna Allakas is only a small Mountain Hut and it is so cosy. There is only one log cabin containing three different sleeping areas with in total 18 beds. The cabin also contains a kitchen and dining tables. But it feels more like a living room than a kitchen. There is a stove in the room that always seems to burn as everyone tries to keep the fire going. This is the ideal spot to dry your clothes and warm your hands. And it really gives this cosy feeling to the place.
The supervisor / host (stugvärd in Swedish) of the Mountain Hut lives in a little cottage nearby, but drops in from time to time. He opens up his little shop if you need any supplies and always has time for you to give advice and trip or go through your trip planning. It doesn't really matter which time of day it is, he always seems to have time for you. Ossi had been at this Mountain Hut for 8 years now, during winter and summer season. The calmness he has over him is evident, and maybe characteristic for this area.
Good morning :-)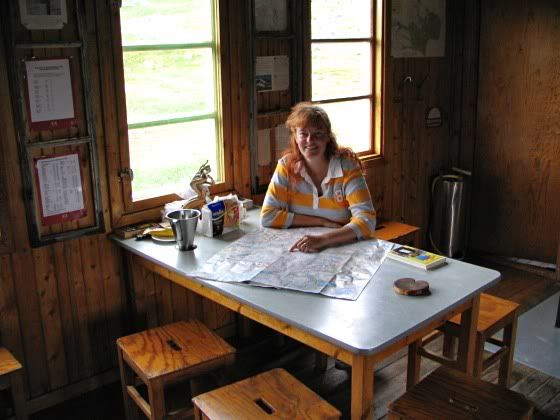 Unna Allakas
Good morning everyone! :-) After a good nights sleep at cosy Allakas, we have decided to make this new day a lazy day. When planning this trip we already planned today as a rest day, and now we are enjoying that idea to the fullest.
My shoes and clothes get a chance to dry in front of the fireplace, my aching complaining muscles and feet are enjoying the rest and my diary finally gets some attention too. This is a good day!
Reading books (they have a little bookshelf here filled with donated books from passing by hikers, so you have something to read during your lazy days), writing in my diary, planning tomorrows hike were the main activities of the day. Oh yes, and eating some decent breakfast, lunch and dinner as well! As far that is possible with the limited selection of food we are carrying with us, lol :-)
A short walk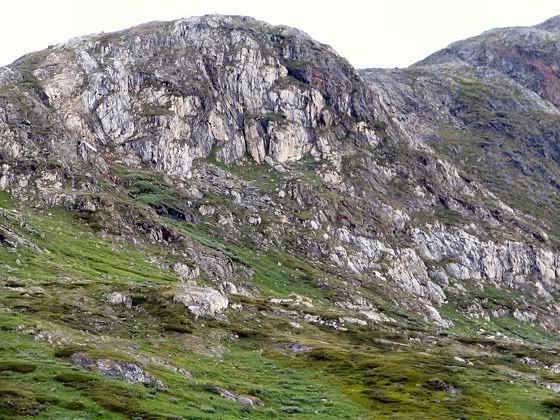 Unna Allakas
Hahaha, we did do something though! After a light and lazy breakfast of knäckebröd, musli, tea and coffee we decided to go for a short walk. Partly to comfort our bad conscience, so that we at least had been out and did something. But on the other hand it was nice to explore a bit of our surroundings. We didn't go that far though, just around the little lakes in front of the Mountain Hut. The rain started again, so our enthusiasm disappeared quickly. We turned around, zipped up our raincoats and went back.
A great excursion from Unna Allakas would be to walk in the direction of Norway. Just after crossing the border there are some wonderful views over Lake Cunojavri. This was our original thought as a nice daytrip from the lodge, but right now the cosy fireplace sounded much more appealing to us :-)