The North of Sweden
Hiking Padjelanta National Park, July 2006 & July 2017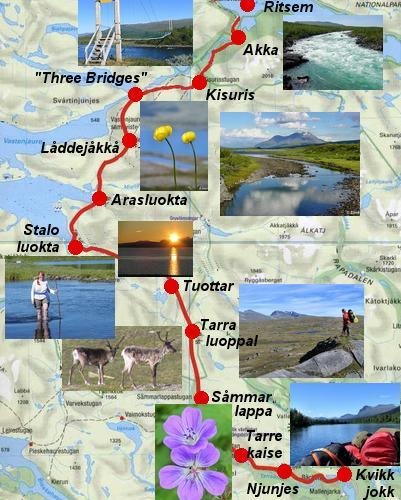 This blog is about my hiking trip in Padjelanta National Park. I started the hike in Kvikkjokk and ended in Ritsem. I've devided up the total Padjelanta hiking trail in several pages, with specific part of the hiking trail: links are above
I enjoyed this National Park in the very north of Sweden so much that I actually hiked it twice: in 2006 and 2017. On the separate pages, for which you can find the link in the menu above, you can follow my hike from day to day.
List of Swedish National Parks

I do love visiting National Parks, and I've visited quite a few of them so far in Sweden. Hopefully some day I will have been to all of them! Below you can find an overview of all the Swedish National Parks:
Click on the names in the map below
to go to their destination pages.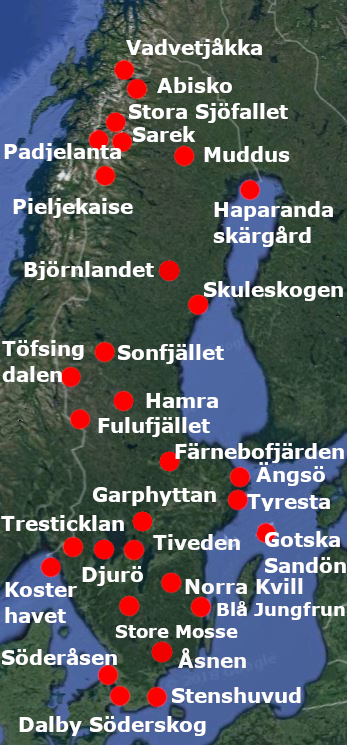 Abisko, (2005, 2009)
Björnlandet
Blå Jungfrun
Dalby Söderskog
Djurö
Fulufjället, (2003)
Färnebofjärden, (2006)
Garphyttan, (2015)
Gotska Sandön, (2009)
Hamra, (2016)
Haparanda skärgård
Kosterhavet
Muddus
Norra Kvill
Padjelanta, (2006, 2017)
Pieljekaise
Sarek, (2008)
Skuleskogen
Sonfjället, (2016)
Stenshuvud
Stora Sjöfallet, (2006, 2017)
Store Mosse
Söderåsen
Tiveden, (2004, 2008 ,2018)
Tresticklan
Tyresta, (2004)
Töfsingdalen
Vadvetjåkka
Åsnen
Ängsö, (2006)
If you like, please feel free to leave a comment in the comment box above. I really would like to hear from you and get your feedback. Please note that you do not need to log in to comment on this page, just leave a comment with your name.