Northern Sweden
Hiking from Abiskojaure towards Rádunjárga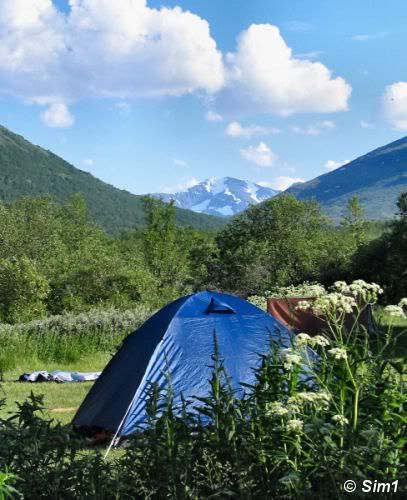 Camp at Abiskojaure
July 10th....9:30: The tent is packed, hiking shoes are on, had a good breakfast... yes, we are eager to go on our way again! Today we are hiking from Abiskojaure towards Alesjaure. The whole trip will be about 21 kilometres.... mmmm..... sounds long to us. So we decide to split it up in two days, hahaha, I am 'almost' feeling lazy doing that ;-) But maybe it is not such a bad idea to take it a bit easy on day 2. It feels good to take a bit of time to get into our 'hiking' rhythm.
The muscles don't hurt as much as I was afraid they would do, so that's good news! But I do feel a bit stiff though after having slept on a thin sleeping mat. For sure not the same as the luxury mattress at home! The newly bought sleeping bags are perfect though! A good investment. They still keep you nicely warm and comfy at minus temperatures, something that might be needed here in the mountains.
Hanging Bridge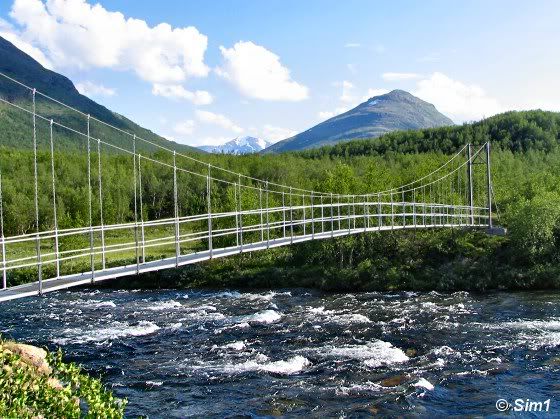 Hanging bridge at Abiskojaure
We wave our campground goodbye and with a smile and happy look on our faces we go on our way....
Only a few metres from the campground we come to our first obstacle: the hanging bridge over de "Kamajåkka". (Jåkka in the Sámi language means brook or creek). The bridge is quite new and feels safe. One of the easiest bridges to be found around here for sure! It does wave a bit from left to right when crossing it and even more when it is windy. It also makes some complaining noises, hahaha, not good for the nerves! But the views from the bridge over the rushing river are so nice that you soon forget about those little worries you might have.
Easy hiking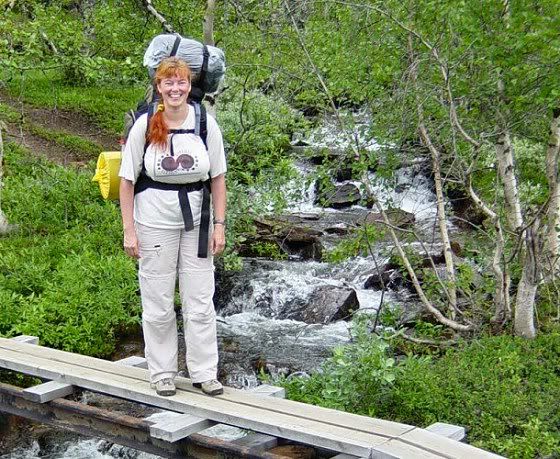 Crossing a little stream
The first part of the hike is gradually going up, through a forest of birches. The trail is easy and mainly leads over walking planks. We cross a little stream, no problems until now! Maybe the mosquitoes a bit, but they are not as bad as I feared it would be. A bit of "Djungle olja" (Swedish anti repellent) works wonders.
I heard so many people warn me about the mosquitoes in this area, but really.... it wasn't bad! Maybe I had an enormous amount of luck. Some tricks to prevent the worst: Don't forget your bottle of "djungle olja", it really works! Wear long sleeves and try to cover up your body as much as you can. Light colours and loose-fit also helps.
The Kungsleden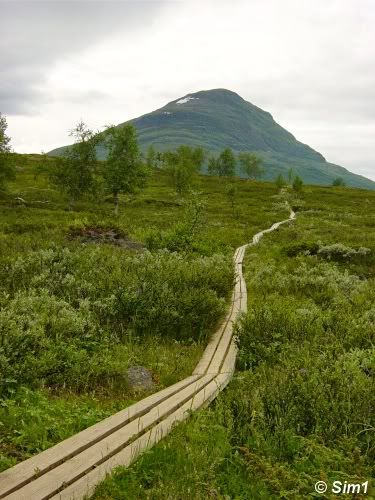 The Kungsleden between Abiskojaure and Alesjaure
The trail from Abiskojaure to Alesjaure is part of the "Kungsleden", the famous hiking trail in Sweden. Being a famous trail has its clear pros and cons. This trail isn't as quiet as other trails... relatively speaking of course! You can hardly call meeting 20 people during a whole days hike very busy. But compared to the side trails it is a lot. The pro on the other hand is that this trail is very well kept; as you can see in the picture.
I only wonder though, why they always take the reindeer-route when they build these hiking trails!!! Hahaha, none of them is straight! Instead they zigzag through the landscape like a reindeer would do. Maybe it is not the quickest way to get from A to B, but it does have much more charm :-) See that peak in the distance? That's where we are heading for now......
Flowering bushes


Flowers of the Woody Willow / Salix lanata L
After having hiked up slowly we start getting above the tree line. No more forest from now on, only small shrubs, plants and flowers. It is still a very green landscape in front of us though. There are not many flowers during this part of our hike, but there are many 'hidden' flowers to be seen everywhere.
The shrubs surrounding us are filled with these flowers. I think they are rather pretty with their fluffy outside. They are the flowers of the Woody Willow / Salix lanata L or Ullvide in Swedish. The Woody Willow or Salix lanata L is one of the most common shrubs in this area.
Leaving Abisko National Park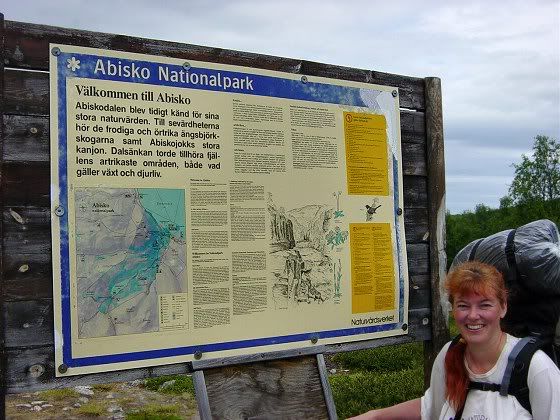 Leaving Abisko National Park
We are leaving Abisko National Park. It is said to be one of the sunniest places in Sweden. And I can believe that as we have had some amazing sunny weather here! The Park is protected from the winds and rainy weather by the high mountain range between Sweden and Norway, creating a wonderful micro-climate. But..... we are leaving that all behind us now! Although, I must say the landscape in front of us looks just as inviting and beautiful as in Abisko National Park. Maybe even more, as we are now out of reach from the day tourist that are so plentiful in Abisko. From now on it is just nature as far as the eye can see....