Stockholm area , Sweden
Hagaparken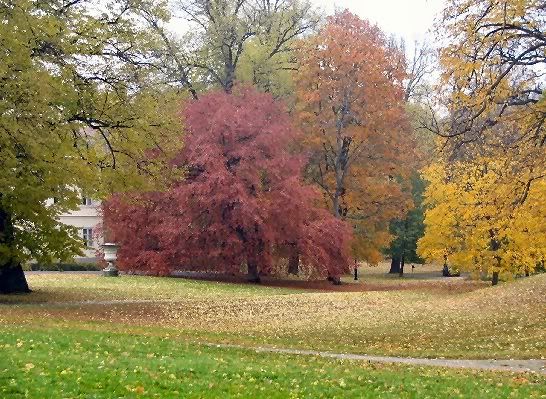 Haga Park
Haga Park, a beautiful park in the northern part of Stockholm, created in an "English Park" style. I was here on a rainy autumn day, but even on a day like this the park managed to charm me. I loved strolling around here, enjoying the nature with its wonderful fall colours and the unusual but interesting buildings and monuments. I must have walked around here for over 2 hours and I still wasn't tired of this place.
Map of Haga Park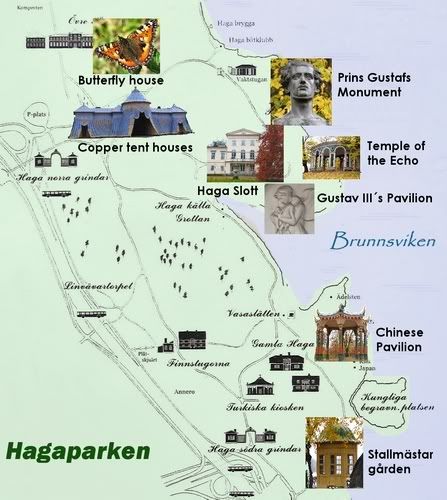 Map of Haga Park
Haga Park is located outside the north tollgate of Stockholm and was bought by Gustav III in 1771. Beside the obvious beautiful park landscape of the park you can also see and visit some interesting places. I made a little map for you where you can easily locate the places I will be talking about on this page.
Visit for example the striking "Copper tent houses" / "Koppartälten" that is home to the Haga Park Museum. Also worth a visit are the "Butterfly house" / "Fjärilshuset", "Gustav III's Pavilion" and the "Queen's Pavilion" or also called "Haga Slott". But keep your eyes open because there is much more to see in the park! During my walk in the park I also visited the "Temple of the Echo" / "Ekotemplet", "Prins Gustaf's Monument" and the "Chinese Pavilion".
Nationalstadsparken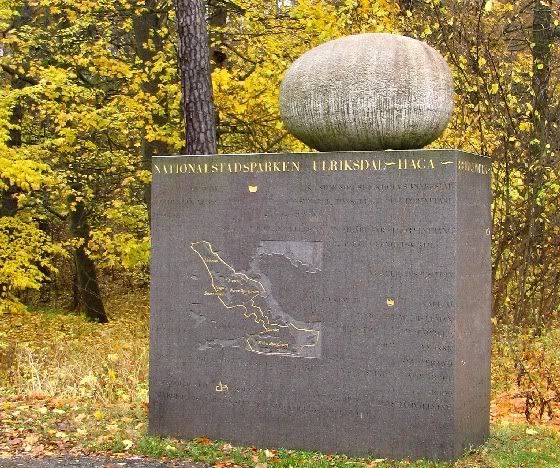 "Nationalstadsparken Ulriksdal-Haga"
Okay, so far my introduction to Haga Park. Now it is time to explore and show you why I like this place so much. So why don't you follow me around on my stroll through the park? Let's start at the North Entrance.
Very close to the parking lot I saw this sign that stirred up my curiosity. Here I realized how big this area really is. If I had wanted to, I could have walked for hours and hours, as this is not just 'one' park, but a there are lots of green areas attached to each other which create one huge green area. As you can see on the sign, Haga Park is part of the "Nationalstadsparken Ulriksdal-Haga", but that is not all. Together with Ulriksdal, Brunnsviken and Djurgården it forms the "Ekoparken" / "The Eco Park", which is the world's first National City Park. The "Eco Park" was established in 1995.
Autumn


Autumn
It was still early morning, not a lot of people around, just me, and those wonderful fall colours. At first it felt a bit strange to walk around all by myself in this big park. I had a few hours to kill and I wondered if I would manage to do that here. Maybe I should consider going somewhere else after my walk? The rain was softly ticking on my umbrella, just enough to give a nice cosy sound, but not too much rain for it to be bothersome.....
The strange feeling of being alone in this big park didn't stay long..... I looked around me, a deep breath of air.... the smell of the forest, that always seems to come alive more after some rain, made me smile. The fresh air on my cheeks, a bit cold, but not too cold, but enough to wrap my shawl a bit more around me to stay nice and warm. Looking around and seeing the golden colours of the leaves, sometimes in tones of red and brown. A breeze of wind, some leaves swirl down to the ground. The feel of autumn, and all this, this wonderful show of nature, just for me. I walked through the woods until the landscape opened up and I saw this large green lawn, bordered by old trees, you know those ones with 'character', like only the old trees seem to have. It felt good and I was happy to be here. Imagine this park in summer, spring or winter... all seasons have their own character and I think I would love this place any time of year. I walked on, and there on the left hand side I saw the building that made me want to go here in the first place......
koppartälten / Copper Tent Houses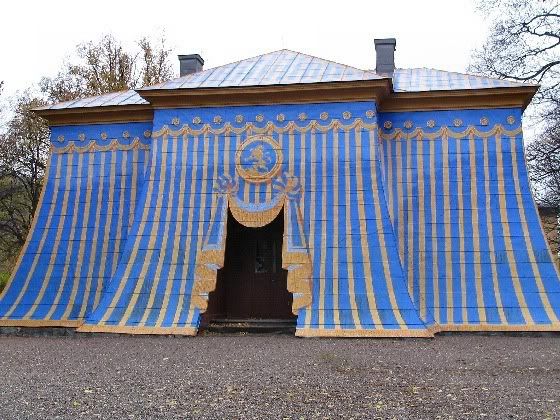 koppartälten / Copper Tent Houses
I saw this place in one of my travelbooks and was fascinated by it. Who would build a Copper Tent house in the middle of a park?? Enough said, I had to see this for myself. So that's why I am here, in Haga Park on this autumn day, standing in front of the copper tent, hahaha, and still not knowing why someone would build a place like this! It looks so strange, but fun at the same time. To my surprise there wasn't only one of these buildings, but three in a row!
Gustav III, the theatre king

Gustav III, the theatre king
To understand this park a bit better and especially the buildings you can see here, I mabye should tell you a bit more about its founder: King Gustav III. also called the theatre king.
Gustav III (1746-1792) became king in 1771. After one year on the throne he made, with support of France, a coup d'tat to increase his power. He ruled despite his dictatorship in the name of "enlighten autocracy" and carried through many reforms. The most important was freedom of religion and the ban of torture. He also changed the law so that the number of crimes with the death penalty was decreased.
He was a big sponsor of cultural activity and built many theatres in his castles, i.e. Gripsholm and Drottningholm and also Haga Park. He started many academies like "Svenska Akademin" (now responsible for the Nobel prize in literature). He played in many theatre shows..... it is been said that he wasn't a good actor though :-)
He was assassinated by a group of people, when he was participating in a "Masquerade" at the Opera. The group was lead by Johan Anckarström who shot the king with a pistol. The king was hated by the nobility because of his reduction of their privileges and they were the "sponsor" of the murder. Gustav III died 13 days later from his wounds. Anckarström was beheaded one month later, the other in the group expelled from the country.
The illusions of a sultan's encampment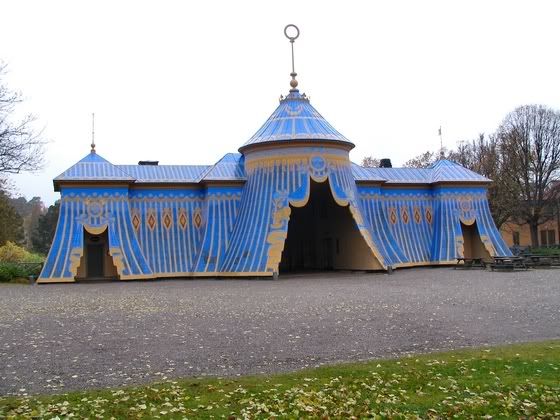 Copper Tents / Koppartälten
Knowing now about Gustav III, the theatre king, these Copper Tents do make a bit more sense. They certainly have this dramatic and theaterical look to them that fits to his love for the theatre. The tents were originally built in 1787 as lodgings for the guard of King Gustav III. The design of the Copper Tents was by by Louis Jean Desprez and he tried to create the illusions of a sultan's encampment on the edge of the forest. The tent facades all face the main lawns, making the dramatic effect of them even stronger.
Unfortunately the buildings burned down in a fire in 1953, but the tents were rebuilt in 1962-1964 (facades) and the rest of the buildings in 1977.
Now these three unusual building house the Haga Park Museum (middle), a restaurant (right) and a accomodation to the park office (left). These copper tents are now a national monument. I would have loved to take a look inside, but due to my unusual timing (an early morning in autumn), the museum and the restaurant weren't yet open for the day.
Opening hours:
* January-May Thurs-Sun 11.00-16.00
* 15 May-30 September Tue-Sun 11.00-17.00
* Admission free