Roundtrip Borneo, June 2004
Mount Kinabalu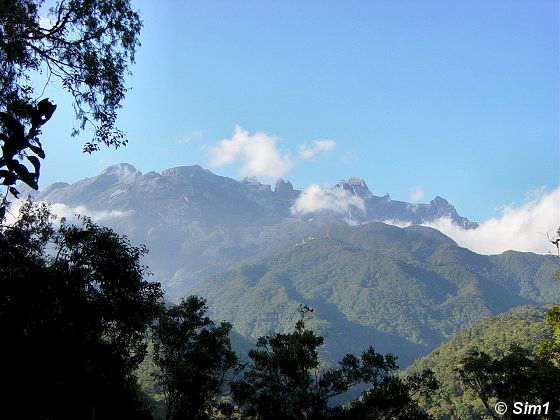 Mount Kinabalu
Good morning everyone! It's early morning and I am still in Kota Kinabalu. I arrived here yesterday after a very long day: leaving Bangkok in early morning, visiting Brunei during the day and arriving in Kota Kinabalu late in the evening.
But today is a new day and new adventures are awaiting! But luckily I can make a slow start to the day. We are leaving at 9 o'clock for Mount Kinabalu, so that means I have time enough to sleep in a little bit, reorganize my luggage and have a nice breakfast.
Yesterday I met the group I will be travelling with. Well... group.... hahaha, a very little group that is! But that suits me fine, as I actually don't like travelling in large groups. The size of the group was my main worry before going on this trip, so you can imagine my relief and excitement to hear it was just the four of us: Me, Åke, another Swede called Olle and our guide for the rest of the week: Redzuan. A perfect group, a perfect day and a heading to a perfect destination: lets go to Mount Kinabalu! The highest mountain in South-East Asia!!
Going to Mount Kinabalu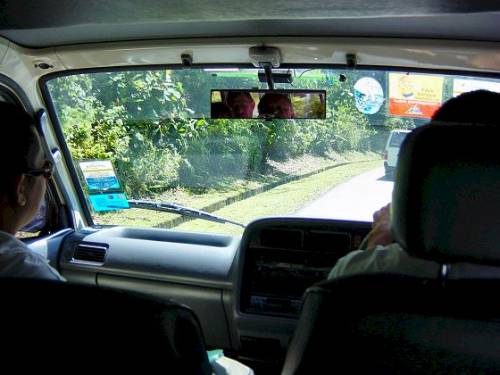 Going to Mount Kinabalu
An 'adventurous' drive with the mini-bus brought us higher and higher into the mountains. Scary at times, as driving here is a totally different experience than in Sweden. They are not afraid of overtaking another car or truck while there is traffic coming from the opposite direction. Well, our driver wasn't anyway ;-)
But instead of focusing on that, I focused on the surroundings instead. Such beautiful landscape! And in the distance I could always see a glimpse of the huge Mount Kinabalu. I wanted to take so many photos seeing this wonderful landscape, hahaha, but that was hard to do in a fast moving mini-bus, so I gave up the attempt. I guess I have to be patient and just wait to our first stop on the way ;-)
Where is Mount Kinabalu?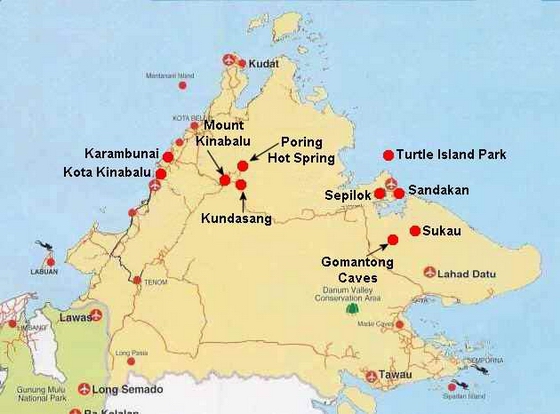 Map Sabah
Kinabalu Park is in the State of Sabah on the northern end of the island of Borneo. When you click on the map you get an idea where it is located.
The park is easy to reach, it is about 110 kilometres from the capital of Sabah: Kota Kinabalu. The road from Kota Kinabalu is a good road and brings you all the way to the entrance of the park. So you don't need to worry about travelling over gravel roads or anything. The best is to stay overnight in or around the park, but as it is so close to Kota Kinabalu you could also just visit the park for the day.
First view over Mount Kinabalu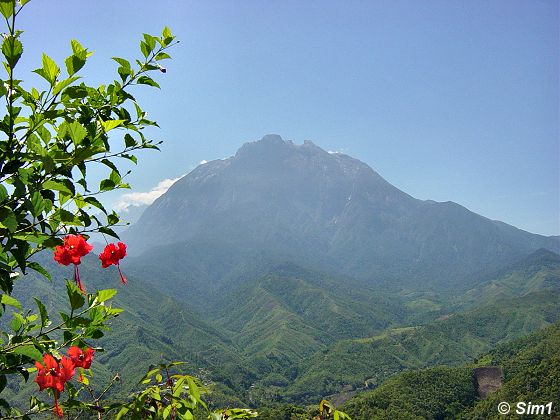 First view over Mount Kinabalu
And that first stop wasn't disappointing! What a view! Mount Kinabalu in the distance, endless forests in the valley below, and the hibiscus flowering cheerfully in the morning sun.
Mount Kinabalu is not just a mountain, it is also a National Park. Why? Well, I hope to show you why this such a special place on the next tips of my page.
Taking photos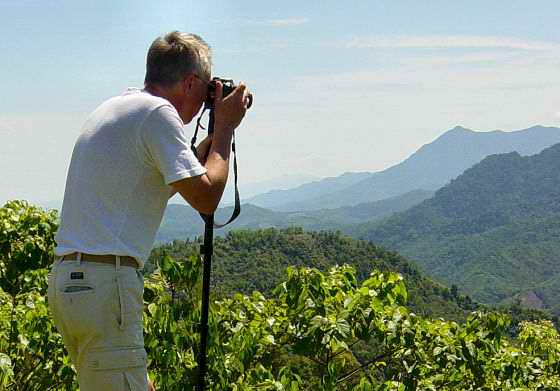 Åke taking photos of Mount Kinabalu
Click, click and click again..... I guess I wasn't the only one that was taken by this view of Mount Kinabalu! Åke was clicking the camera as well, taking some wonderful photos. Who can blame him? Such a fantastic view!
Little souvenir market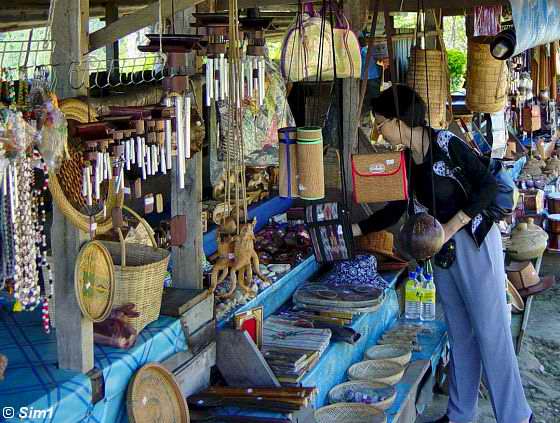 Little souvenir market
At the viewpoint was a small market where they sold local craftsmanship and souvenirs. A good spot to buy something if you are looking for a small souvenir to take home with you from Borneo.
Having just arrived on Borneo, I wasn't ready yet to do some serious souvenir shopping. But it was fun to look around anyway and see all the different things they were selling. I wish I had bought some more things here though, because even if this was the first souvenir place, I didn't visit many of them after this day. Hahaha, I guess I am just not an experienced souvenir shopper as I hardly ever buy any souvenirs during my trips.
Local Market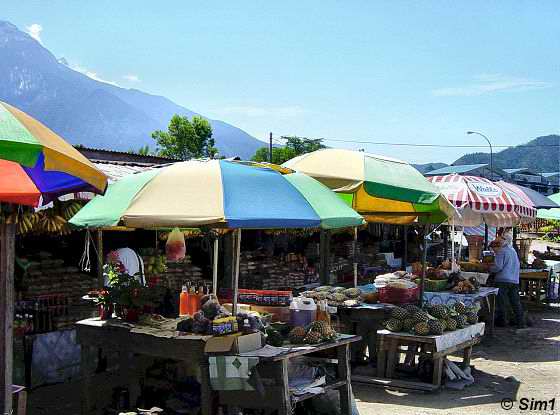 Local Market
But this was not the only stop we made. Next stop: a local / fruit market! Yes, I know what you are thinking: a fruit market is a fruit market. And you're right! But.... for me this is a totally other world compared to Holland and Sweden. So I had fun walking around and taking in the different sights and sounds of this place.
The colourful umbrella's looked so cheerful against the blue sky. But obviously needed here as it can be very warm. I think this day it was somewhere between the 30 and 35 degrees Celsius.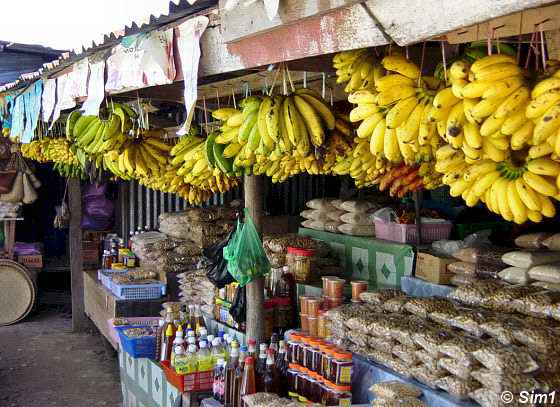 Local Market
One thing I enjoyed a lot was walk around and take a look at all the different things they were selling. So many things we don't have in Sweden. I was amazed by some of the fruits, some of them I had never seen before in my life.
You can find a lot of these fruit markets along the way. I found them great places to stock up on some fresh fruits as a snack during the day and evening. Delicious! But it wasn't only the fruit that I bought, I tried out some different types of snacks as well. One of my favourites was a snack I already knew from Holland: Keropok. Keropok is a crispy snack, only in the Netherlands we call it kroepoek. I haven't had it for years, so it was great to see it here, and of course eat lots of it :-)
Local people


Local people
Not the best of pictures as there is way too much backlight, but I like it anyway as this shows a bit of the local people and their lives. Through the market stalls I was able to have a glimpse of the local people and their daily activities. Not in the picture, but below her feet, were some chickens running around. I don't think I would ever see a thing like that in Holland or Sweden. It is so great to be able to observe the differences in cultures and how people live in different parts of the world.