Roundtrip Borneo, June 2004
Libaran Island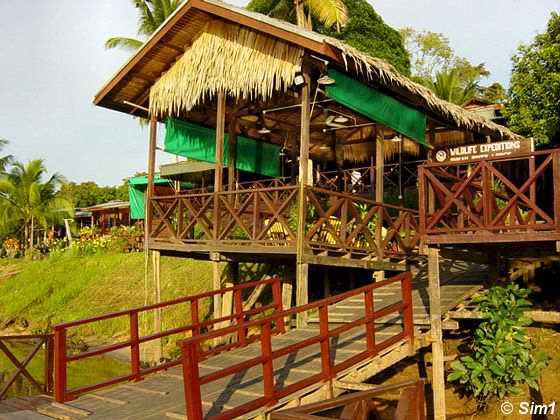 Leaving Sukau, heading for Libaran Island
6:30 Breakfast time.... very early for a vacation day, but we are having a long day ahead of us, so it was good to make an early start.
I was sad to leave Sukau as I had such a fantastic time here. The wildlife was amazing and I enjoyed every minute of our two days on the river. But it is time to pack our bags now, take a bite to eat, forget how early it is in the day, and head for our new destination.... Libaran Island!
Where is Libaran Island?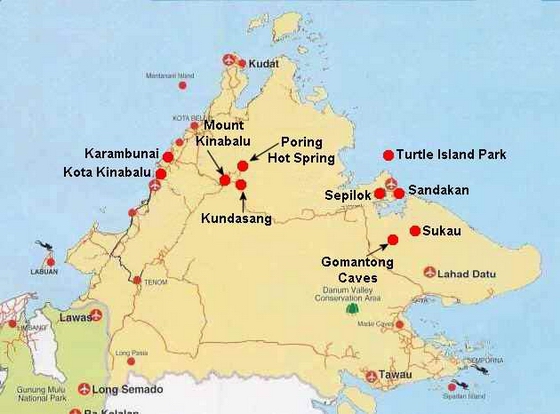 Map Borneo
We are heading for Libaran Island today, but where exactly is it? Libaran Island is part of the Turtle Island Park a Marine Park consisting of a series of three islands: Selingan, Bakungan Kecil and Gulisan. The Turtle Island Park is located in the eastern part of Sabah (Borneo, Malaysia) in the Sulu Sea. It is only 40 minutes by boat from Sandakan, the main city on the east coast of Sabah.
Going to Libaran Island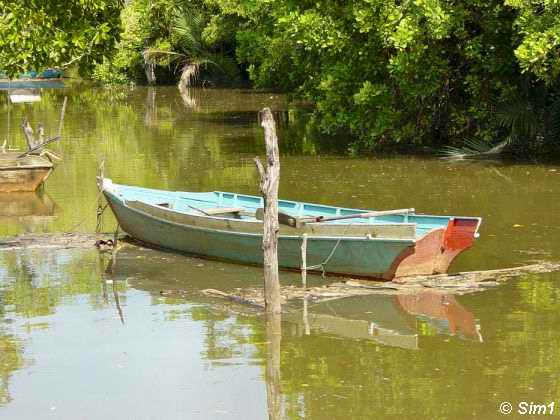 At Padas Village
Remember that bumpy road I had to take to get to Sukau??? (See my Sandakan page). Well, those same 25 kilometres long bumpy, dusty road is our fate again to head back.... aiks. But I survived it luckily (again), hahaha, and after that it was smooth sailing for almost the whole way to Libaran Island.
To get to Libaran we are driving in the direction of Sandakan. The roads are good, the trip relaxed. Yep, I was one happy traveller :-) Close to Sandakan we made a stop at a big supermarket where stocked up on film (hahaha, and you will need lots of film here on Borneo!). There were also some little food stalls located here as well, and we decided that that was a good excuse to have a quick bite to eat :-) With our stomachs full, my bag filled up with rolls of film, we are on our way again.
Padas Village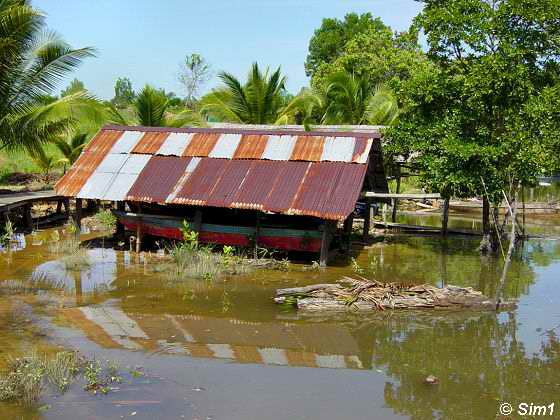 At Padas Village
From the outskirts of Sandakan it was only a short trip to get to our destination: Padas Village. The last few kilometres were bumpy again. We drove on something they seemed to call 'a road'. Hahaha, but I wasn't sure about that ;-)) Luckily it was only a few kilometres, and maybe you can imagine us feeling relieved when we finally arrived :-))
This picture is rather typical of Padas Village. There is not much to find or do here. It is nothing more than a few houses along the road and a little harbour hidden in the mangrove forest.
Oops, this is going fast!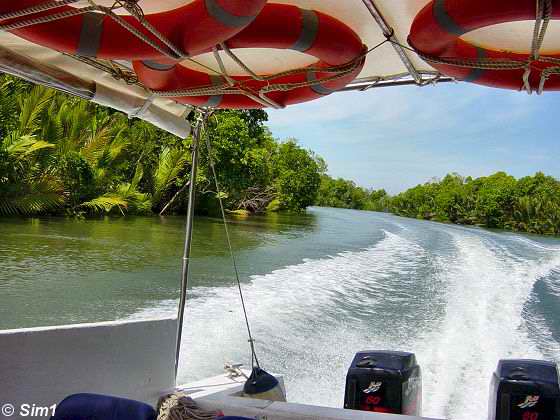 Racing towards Libaran Island
You might have gotten a 'bit' worried by looking at the previous two pictures of how I actually would travel from Padas Village to Libaran Island..... Well, I have to admit that I was worried for a second there as well. Hahaha, but I didn't need to be!
The trip was very well organized and the moment we arrived with our bus at Padas Village a super quick boat came racing around the corner, eagerly waiting to bring us to Libaran Island. So all aboard, put your life vests on... hang on to your bags, hats, and everything you can think of.. here we goooo.....
Little fishing villages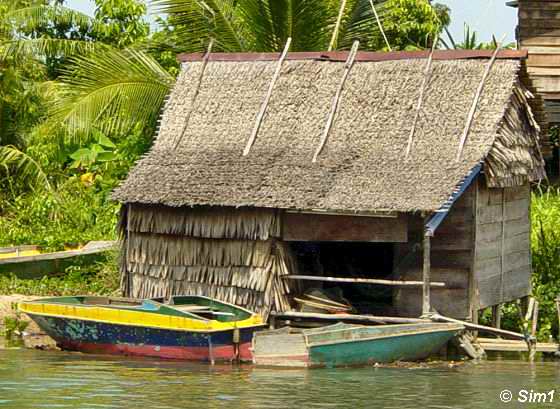 Fishing village
The canals through the mangrove forest were winding a lot and we had no clue what would wait for us around the next corner. But it didn't 'zap' by all that fast all the time though. When we passed the little fishing villages along the way, the boat slowed to a minimum speed, giving us the chance to enjoy the view and take some photos.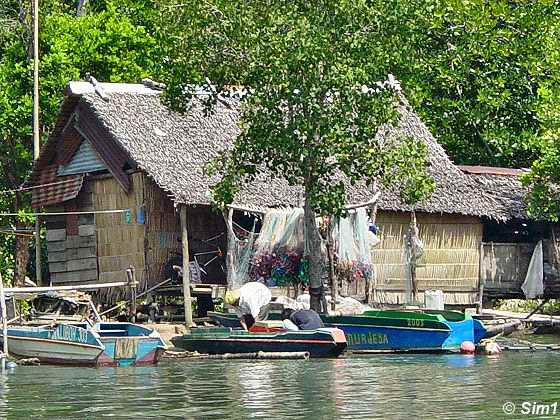 Fishing village
Arriving at Libaran Island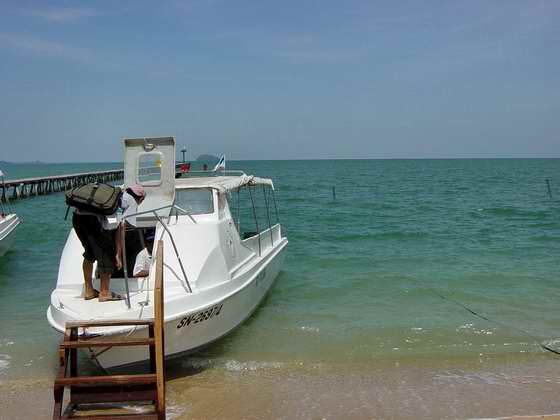 Arriving at Libaran Island
When we got out of the mangrove forest we went full speed on to the Sulu Sea towards Libaran Island. The island is located rather close to the shore, so the whole boat trip took about 20 minutes. And 20 enjoyable minutes they were. The blue-green sea, the blue sky, the marvellous sunny warm weather and the wind blowing through my hair.... it felt great!