Roundtrip Borneo, June 2004
Mount Kinabalu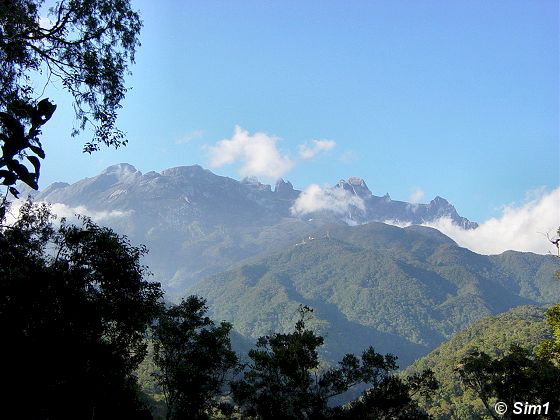 Mount Kinabalu
Good morning everyone! It's early morning and I am still in Kota Kinabalu. I arrived here yesterday after a very long day: leaving Bangkok in early morning, visiting Brunei during the day and arriving in Kota Kinabalu late in the evening.
But today is a new day and new adventures are awaiting! But luckily I can make a slow start to the day. We are leaving at 9 o'clock for Mount Kinabalu, so that means I have time enough to sleep in a little bit, reorganize my luggage and have a nice breakfast.
Yesterday I met the group I will be travelling with. Well... group.... hahaha, a very little group that is! But that suits me fine, as I actually don't like travelling in large groups. The size of the group was my main worry before going on this trip, so you can imagine my relief and excitement to hear it was just the four of us: Me, Åke, another Swede called Olle and our guide for the rest of the week: Redzuan. A perfect group, a perfect day and a heading to a perfect destination: lets go to Mount Kinabalu! The highest mountain in South-East Asia!!
Going to Mount Kinabalu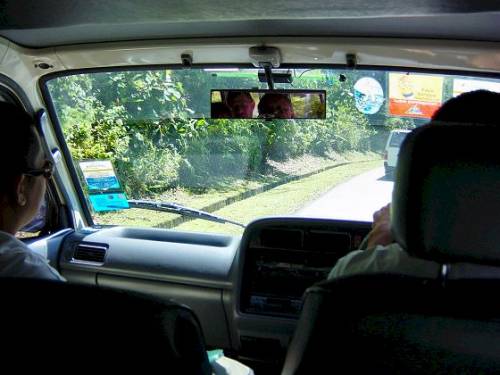 Going to Mount Kinabalu
An 'adventurous' drive with the mini-bus brought us higher and higher into the mountains. Scary at times, as driving here is a totally different experience than in Sweden. They are not afraid of overtaking another car or truck while there is traffic coming from the opposite direction. Well, our driver wasn't anyway ;-)
But instead of focusing on that, I focused on the surroundings instead. Such beautiful landscape! And in the distance I could always see a glimpse of the huge Mount Kinabalu. I wanted to take so many photos seeing this wonderful landscape, hahaha, but that was hard to do in a fast moving mini-bus, so I gave up the attempt. I guess I have to be patient and just wait to our first stop on the way ;-)
Where is Mount Kinabalu?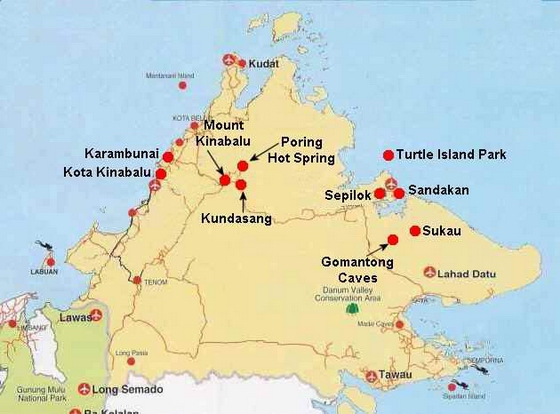 Map Sabah
Kinabalu Park is in the State of Sabah on the northern end of the island of Borneo. When you click on the map you get an idea where it is located.
The park is easy to reach, it is about 110 kilometres from the capital of Sabah: Kota Kinabalu. The road from Kota Kinabalu is a good road and brings you all the way to the entrance of the park. So you don't need to worry about travelling over gravel roads or anything. The best is to stay overnight in or around the park, but as it is so close to Kota Kinabalu you could also just visit the park for the day.
First view over Mount Kinabalu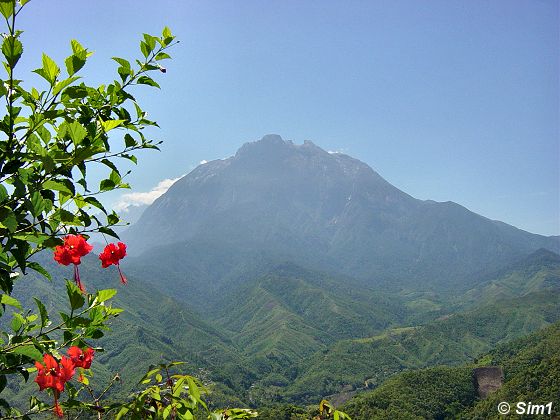 First view over Mount Kinabalu
And that first stop wasn't disappointing! What a view! Mount Kinabalu in the distance, endless forests in the valley below, and the hibiscus flowering cheerfully in the morning sun.
Mount Kinabalu is not just a mountain, it is also a National Park. Why? Well, I hope to show you why this such a special place on the next tips of my page.
Taking photos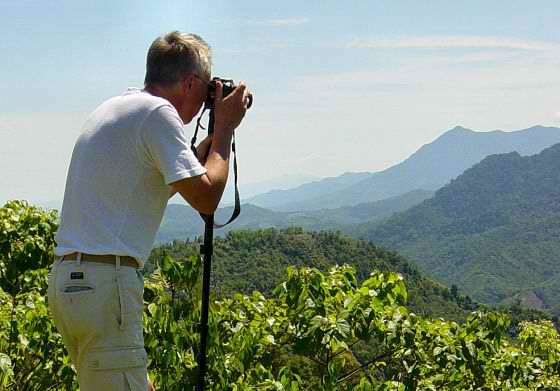 Åke taking photos of Mount Kinabalu
Click, click and click again..... I guess I wasn't the only one that was taken by this view of Mount Kinabalu! Åke was clicking the camera as well, taking some wonderful photos. Who can blame him? Such a fantastic view!
Little souvenir market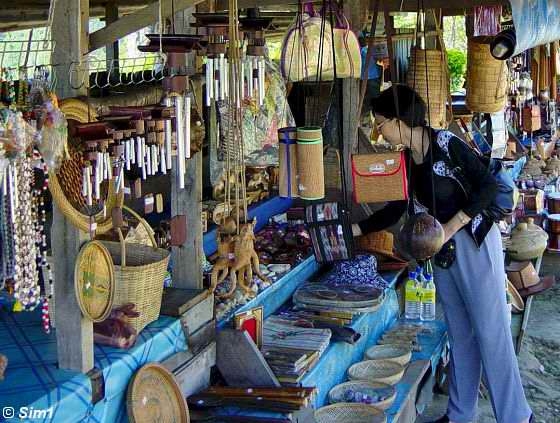 Little souvenir market
At the viewpoint was a small market where they sold local craftsmanship and souvenirs. A good spot to buy something if you are looking for a small souvenir to take home with you from Borneo.
Having just arrived on Borneo, I wasn't ready yet to do some serious souvenir shopping. But it was fun to look around anyway and see all the different things they were selling. I wish I had bought some more things here though, because even if this was the first souvenir place, I didn't visit many of them after this day. Hahaha, I guess I am just not an experienced souvenir shopper as I hardly ever buy any souvenirs during my trips.
Local Market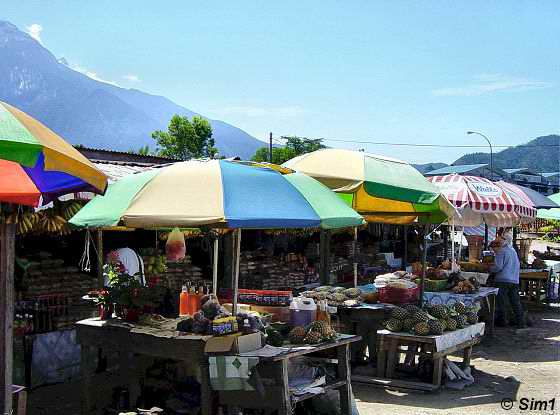 Local Market
But this was not the only stop we made. Next stop: a local / fruit market! Yes, I know what you are thinking: a fruit market is a fruit market. And you're right! But.... for me this is a totally other world compared to Holland and Sweden. So I had fun walking around and taking in the different sights and sounds of this place.
The colourful umbrella's looked so cheerful against the blue sky. But obviously needed here as it can be very warm. I think this day it was somewhere between the 30 and 35 degrees Celsius.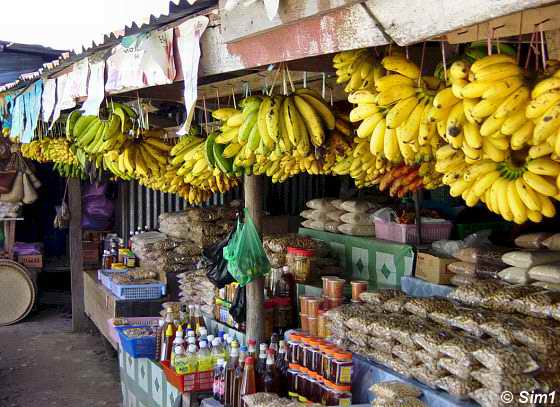 Local Market
One thing I enjoyed a lot was walk around and take a look at all the different things they were selling. So many things we don't have in Sweden. I was amazed by some of the fruits, some of them I had never seen before in my life.
You can find a lot of these fruit markets along the way. I found them great places to stock up on some fresh fruits as a snack during the day and evening. Delicious! But it wasn't only the fruit that I bought, I tried out some different types of snacks as well. One of my favourites was a snack I already knew from Holland: Keropok. Keropok is a crispy snack, only in the Netherlands we call it kroepoek. I haven't had it for years, so it was great to see it here, and of course eat lots of it :-)
Local people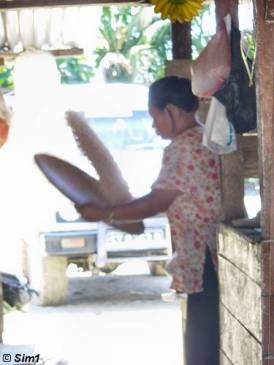 Local people
Not the best of pictures as there is way too much backlight, but I like it anyway as this shows a bit of the local people and their lives. Through the market stalls I was able to have a glimpse of the local people and their daily activities. Not in the picture, but below her feet, were some chickens running around. I don't think I would ever see a thing like that in Holland or Sweden. It is so great to be able to observe the differences in cultures and how people live in different parts of the world.
At the market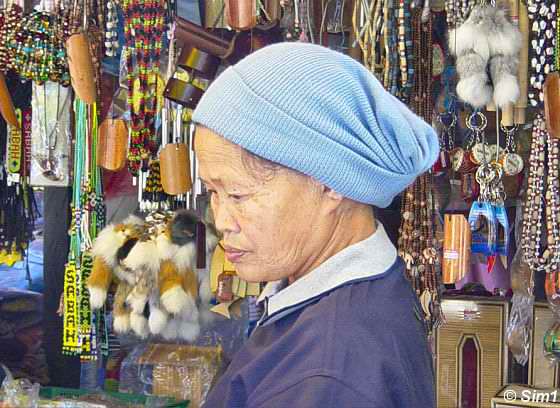 Mount Kinabalu
I am always a bit shy of taking photos of people, but sometimes I do give it a try. Here is a picture of one of the ladies that was selling souvenirs. In a moment that she wasn't looking I took my camera, zoomed in and quickly took this picture. I am happy that I did that, because for me looking at this photo is a little bit like being on that market again.
Wildlife Mountain Lodge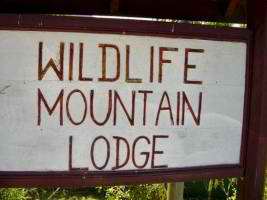 Wildlife Mountain Lodge
No time to waste anymore, it is time to hop on the minibus again, and get to Mount Kinabalu. The last bit of the trip wasn't so far and we arrived well before lunch at that 'Wildlife Mountain Lodge'. Our home for the next two nights.
My roundtrip was arranged by 'Wildlife Expeditions' and when you travel with them to Mount Kinabalu you'll most likely end up in this accommodation.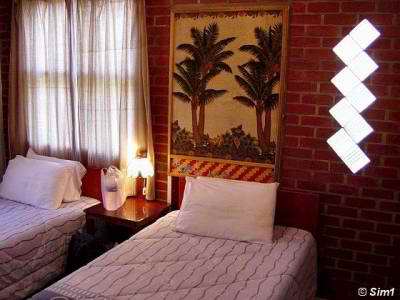 Wildlife Mountain Lodge
When I booked this trip I was told to expect primitive accommodations. So I expected it to be 'really' primitive. Hahaha, but lucky me, it wasn't so bad! It might not be your luxury place, but I wasn't complaining! We had our own bathroom, hot shower, living room and even two bedrooms! Not that we needed those, LOL, but it was fun to have lots of space anyway.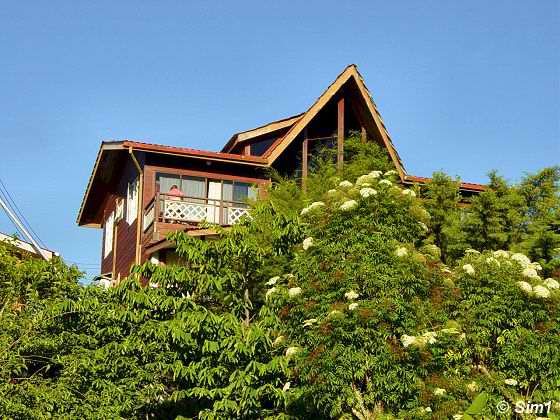 Wildlife Mountain Lodge
The lodge is situated on a nice location just outside the Mount Kinabalu National Park. And as you can see it is build high up on the side of the mountain. A perfect spot to relax after a long day and do nothing besides enjoying the view over Mount Kinabalu and surrounding areas.
View from the balcony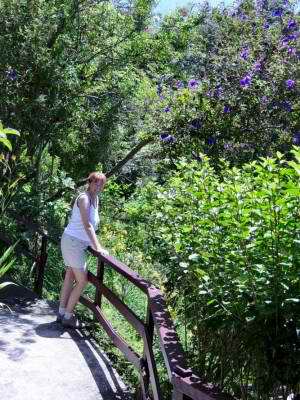 View from the balcony
One of my best memories is this balcony. I loved hanging over the railing and enjoy the wonderful view over Mount Kinabalu (I'll put some photos of that view later on this travel page). In the evenings it was pitch dark and most often there was a bit of lightning in the far distance. The sound of the cicadas was overwhelming, but it was nice and warm still outside. Although I did need a sweater so now and than because it cools off quickly during the evenings so high up in the mountain.
But it was so relaxing! Having a drink together with Åke and Olle on the deck, waiting for dinner to start, or having an after dinner drink here. Hahaha, we had many laughs here. I guess it was these wonderful surroundings that made us all relax and enjoy the evenings so much, even if we were dead tired of walking around all day long :-)
Kinabalu Park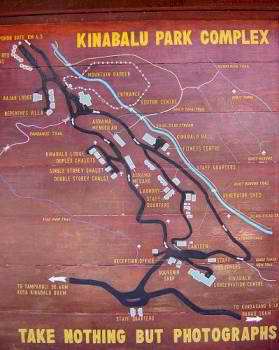 Map Kinabalu Park Complex
Kinabalu Park, in the State of Sabah on the northern end of the island of Borneo, is dominated by Mount Kinabalu (4,095 m), the highest mountain between the Himalayas and New Guinea. It has a very wide range of habitats, from rich tropical lowland and hill rainforest to tropical mountain forest, sub-alpine forest and scrub on the higher elevations. It has been designated as a Centre of Plant Diversity for Southeast Asia and is exceptionally rich in species with examples of flora from the Himalayas, China, Australia, Malaysia, as well as pan-tropical flora.
Kiau View Trail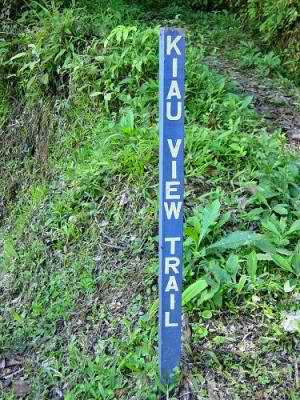 Kiau View Trail
We started our walk with part of the Kiau View Trail which starts very close to the parks office. It was great to have Redzuan with us as a guide as he knows the area well. So he planned a tour around the area using different connecting hiking trails which made us able to see different parts and habitats of this wonderful area.
Climbing up....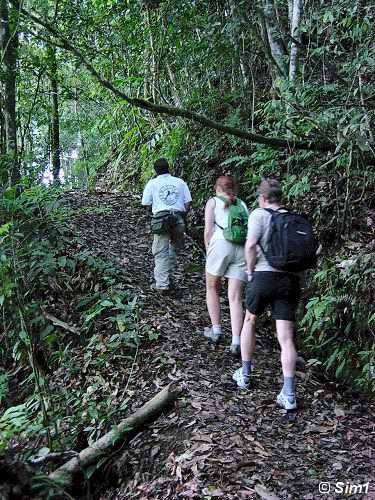 Climbing up....
I didn't climb up all the way to the top of the Mount Kinabalu, but that didn't mean we had no climbing at all to do! Some parts of the trails had quite steep stretches in them, and phew, that wasn't so easy.
Having just arrived in Malaysia it was rather an exhausting thing to do. A hike that I normally would laugh about in Sweden, was a totally different story here at Mount Kinabalu. Being on this high altitude (1500 metres high) and the tropical moist heat of the rainforest drained a lot of my energy. I certainly needed a bit of time to get used to these circumstances! But with some sweating and persistence I did make it! But it was more than worth it; I loved walking around here.
From trail to trail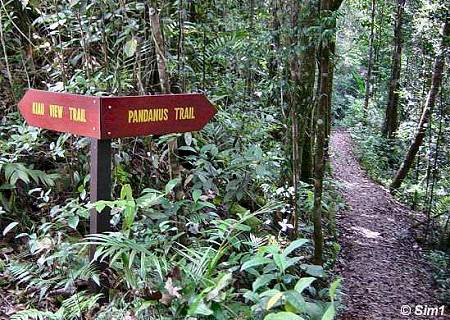 From trail to trail
We didn't stay on the one trail, but switched to connecting trails several times. Our next trail was the Panadus Trail. All trails seemed to be very good marked, so no problems at all finding your way around. I wouldn't go here without a good map though, or of course with a guide that knows his way around well :-)
Huge trees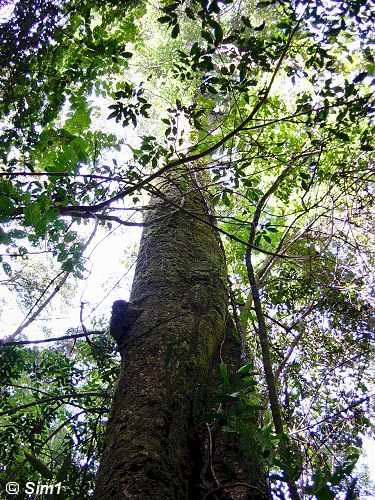 Huge trees
Some trees at Mount Kinabalu were huge! So high that I could hardly see the top of the tree. Some parts of the forests are so dense that this is the only way to get some of that precious sunlight. They just have to outgrow everything else to be the first to catch the sun. I just found it amazing to watch! And it made me wonder how long it takes to become such a tall guy like this tree.
Mount Kinabalu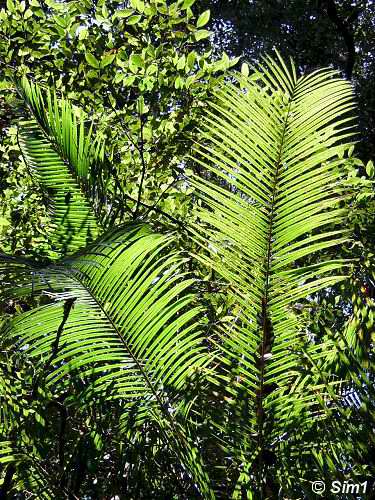 Bright sunlight, green leaves
Green, green, so much green! Everywhere I looked there were trees, plants, ferns all growing into each other. They were all fighting for a little bit of space and catching some sunlight. I loved these huge fern leaves with the sunlight filtering through it. I guess they weren't complaining about the amount of sunlight they got. It gave them something special though. The bright sun just lit them up, giving that special glow and vibrant green colour.
A splash of colour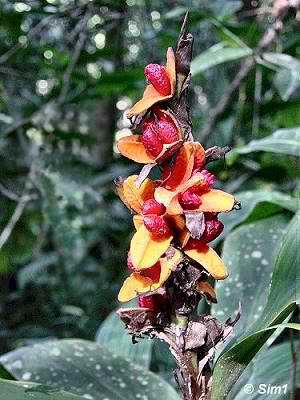 Ginger
The main colour to be seen in this forest is just green, green and endless green. In a 1000 different tones of green though, hahaha, but still all green. The one plant that did give a splash of colour in this sea of green was the ginger plant.
Another plant that actually gave more than just a 'splash' of colour was this one. It is called Medinilla Speciosa (Melastomataceae) and it looked so bright and colourful in this sea of green This is a little tree or shrub with several of these bright pink-coloured flowers on them. I found the flowers themselves strangely formed but fun to see. It is almost like it is made of a lot of little berries instead of being a flower.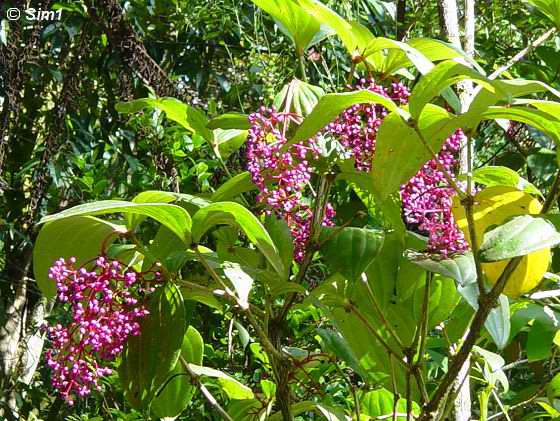 Melastomataceae (Medinilla Speciosa)
Orchids, orchids and orchids!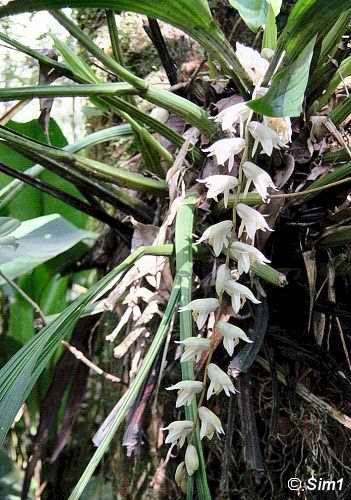 Coelogyne rhabdobulbon
Orchids, orchids and orchids! If you love them, this is the place to be! The mountain garden at Mount Kinabalu National Park. The garden is located not that far from the Parks office and won't be hard to find. Here they take care of so many different species of orchids, from big to small, from colourful to almost invisible, all you can think of. I have never been so crazy about orchids, but this place got me enthusiastic! I was so amazed by all these different varieties! A real pleasure to walk around here and spot all the different types.
If I am right is this the Coelogyne rhabdobulbon.
Miniature orchid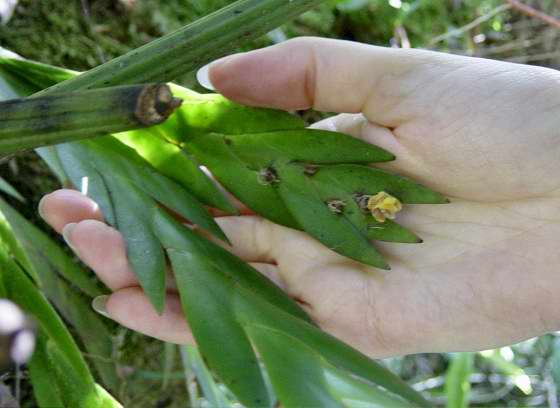 Miniature orchid
The orchids ranged from big to small, and this is one of the miniature ones. Hahaha, but don't think this is the smallest one around! It was huge compared to the 'real' miniature one!
To see the flower I had to used my binoculars, but hold them the other way round, so they work as magnifying glasses. A flower not bigger than the head of a needle was amazingly beautiful and complicated. It was a real orchid and had a wonderful pinkish colour. What probably amazed me the most that even if it was so absolutely tiny in shape, colour and details it was one of the most beautiful orchids I have seen.
The mountain garden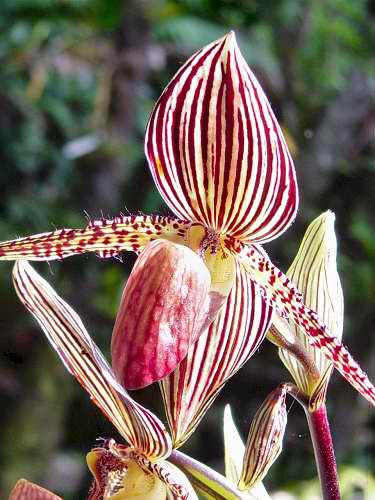 Orchids at the mountain garden
These are some of the beautiful orchids at the Mountain Garden. That they chose this location for the garden is not by accident. There are about 700 species of orchids found on this mountain making it quite an unique place. I have no clue how many species of orchids were brought together in the mountain garden, but there were more than enough to keep you busy for a while.
A visit to the mountain garden will cost you 5 RM (Foreign tourists) or 4 RM if you are local (prices summer 2004)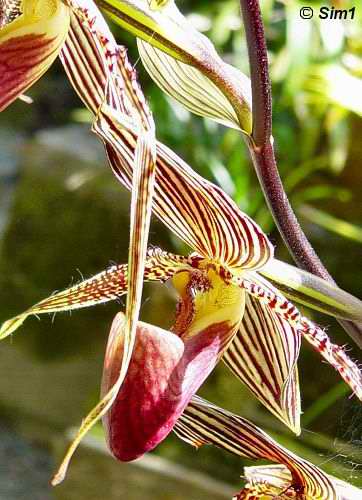 Orchids at the mountain garden
Slipper orchid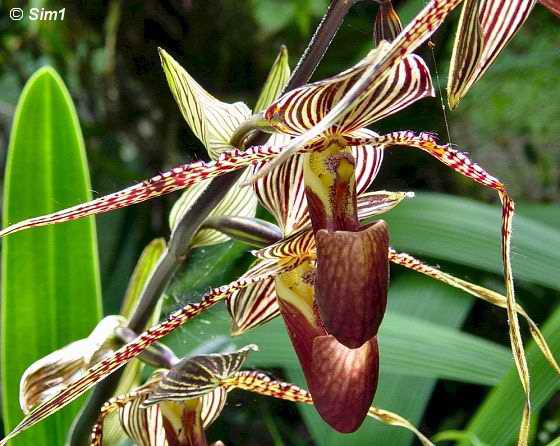 Slipper orchid
This is one of those very unique and rare orchids. It is endemic to Kinabalu and it called the 'Slipper Orchid' (Paphiopedilum rothschildianum). Unfortunately it is so rare that it is worth a lot of money on the black market. Unlike all the other orchids that were growing freely in the garden, this one was put behind bars for its own safety. Sad to know people try to steal orchids like this out of nature. It is already endangered, why can't we respect nature and help it, instead of destroying it even more?
Santa Orchid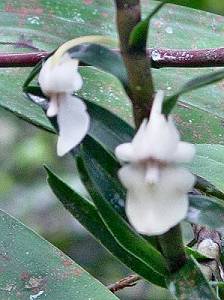 Santa Orchid
I know, I know, bad photo. Hahaha, but the nickname of this orchid was soooo funny, I couldn't resist publishing it. This is what they call the 'Santa Orchid' :-)) Hahaha, and standing their in this tropical heat, in this far away garden on Borneo, worlds removed from a feeling of Christmas, I looked at this flower, and I COULD see Santa in it! Hahahaha, I laughed so much! Such a cool and funny name for a beautiful orchid :-)))
Mount Kinabalu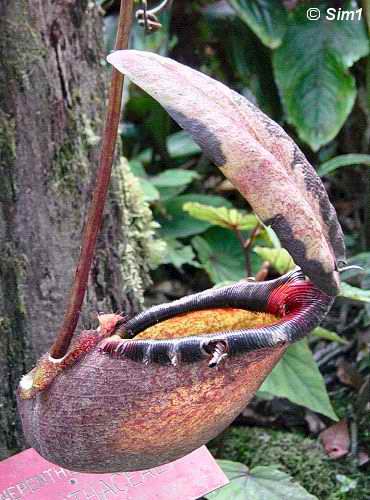 Pitcher plant
One of the famous plants of Mount Kinabalu is the pitcher plant. I've seen a variety of the pitcher plant before, but this one was huge. Hahaha, I can't say they are beautiful, maybe special is a better word.
Pitcher plants are carnivorous plants; they get their nutrients from eating insects. The plant uses a special trick for that. The flower has a big 'bowl' with liquid in it. Insects, such as flies, are attracted to this liquid. The flower just waits until the insect gets trapped inside the flower and has his lunch :-)
Textures...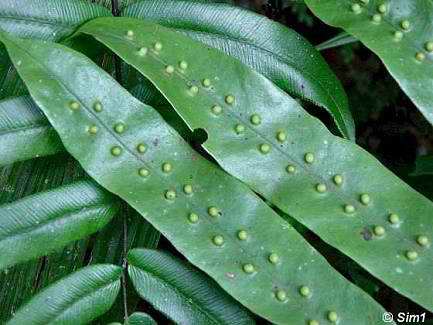 Textures...
I always love to look at details and of course I found one in this sea of green as well.
A fun thing to look at is the different shape and textures of the plants. These leaves had seeds in them. The way to tell that quickly is the regular pattern of the bumps on the leaves. You can see a similar type of thing, but than with an irregular pattern. In that case it is most likely that some kind of insect has used the leave to lay its eggs inside the leave.
4 p.m. SHARP!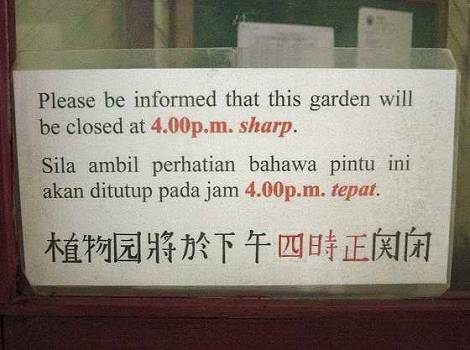 4 p.m. SHARP!
The opening times are very strict at the Mountain Garden, so make sure you know them well and leave the garden on time.
The gardens are open every day 9am, 12pm and 3pm. I think it is open for an hour every time, but I am not sure about that. What is certain is that the garden closes at 4.00pm sharp! Hahaha, it says so on the sign, so don't forget to read that important message!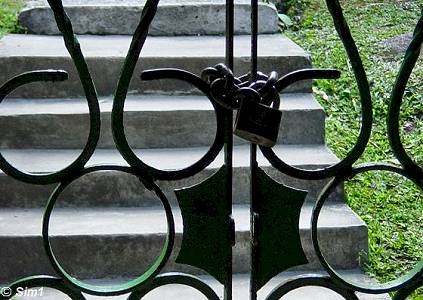 Ooooops!
I guess they were not kidding with that 4.00pm SHARP sign! It is 1 minute past 4 and this is what we find.....
a closed gate.... a big lock..... and HELP! We are on the wrong side of it!!!!
Hahaha, it was a bit of a hilarious moment, but also a bit worrying at the same time. How to get out of this place! For the first time I noticed that there was this big fence around the garden, eeeeeks! ;-))) But rescue was on the way! The guard came back after a few minutes to release us from our garden prison, LOL :-)))
Back on the trail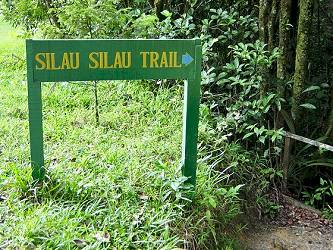 Silau Silau Trail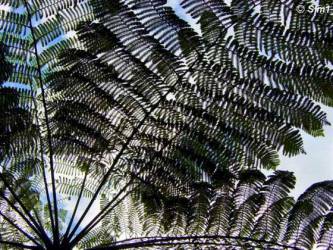 Silau Silau Trail
Back on the trail again to enjoy some more of this wonderful nature at Mount Kinabalu. The next trail is the Silau Silau trail. Looking at the sky it is clear that the day is moving on quickly, but we do have some time to spear to do some more hiking!
Not just berries....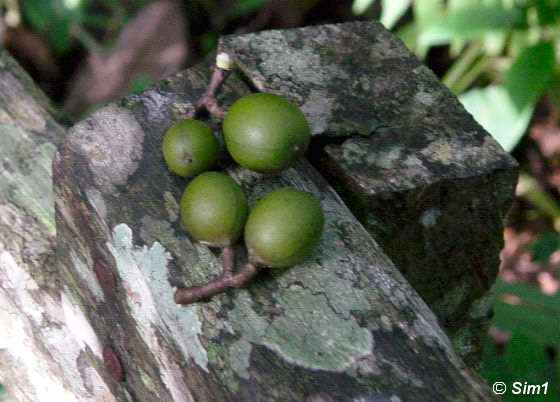 Not 'just' berries
Having a guide like Redzuan with us was great. I learned a lot of interesting, fun and surprising facts from him about the wonderful nature of Borneo. The great thing was that he not only knew a lot about nature but also loved it. He got genuinely enthusiastic when he noticed something and started talking about it to us. It worked really catching and we were all so enthusiastic along the way and enjoyed our hike a lot. One fun example of surprising nature were these berries. I would say they are 'just' berries, but they are not! These berries had a little surprise inside them..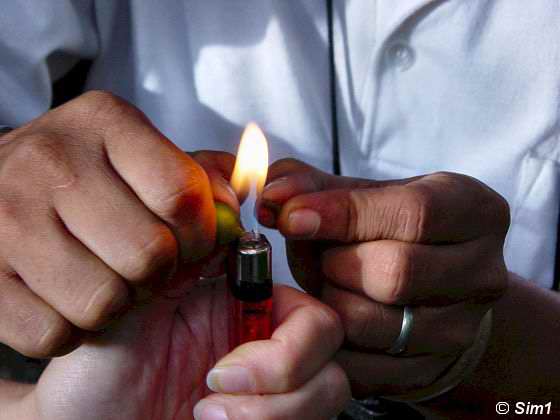 Lighter?!
Any volunteers to hold a lighter? Okay, you guessed it, I was the victim. Hahaha, by now I knew just as much as you do about these 'mystery berries'. So nervously I held up the lighter while Redzuan fiddled something with those berries. Yep, those berries were going to do something and it had to do with fire! Hahaha, but what???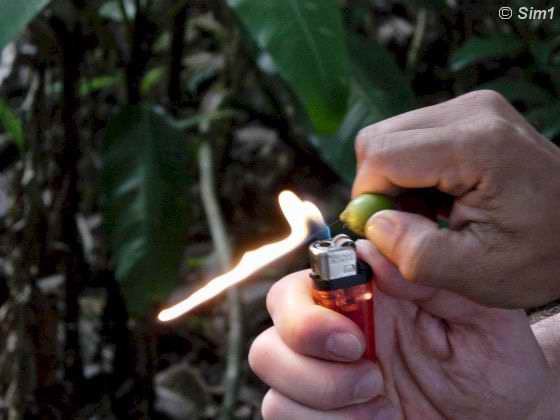 And fire....
Well, you might have guessed it already, but these berries can produce fire. Inside the berry is a fluid that burns really well. And when you squeeze the berry really well, you get this long flame that you see in the picture!
Amazing ferns and purple berries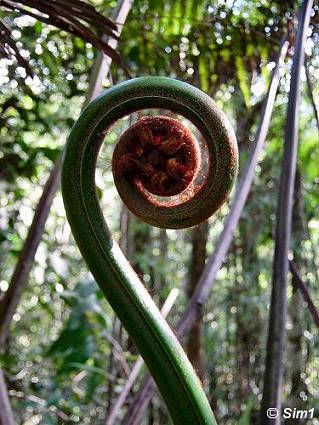 Fern
From surprising to just beautiful and elegant. Well, in my eyes anyway ;-)) Amazing to see this huge fern leaf rolled up, but soon to be unfolded.
Not beautiful or elegant, hahaha, but colourful they are! I saw these purple berries several times. They were sticking out so much because of their bright colour that of course I had to take a picture of them ;-)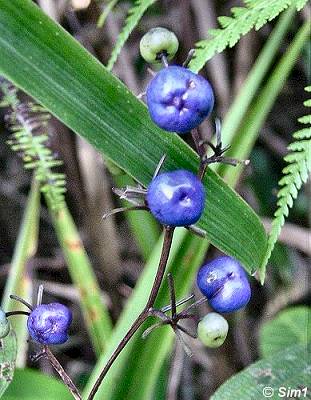 Purple berries
Beautiful landscape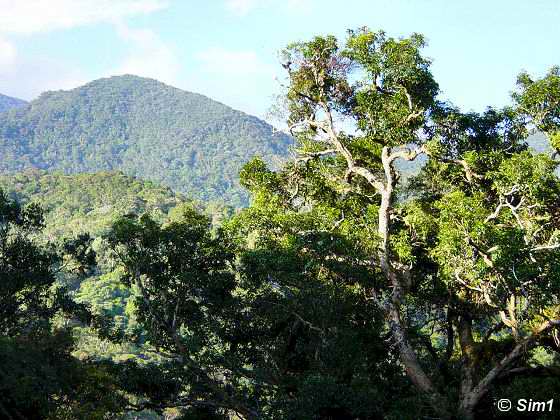 Beautiful landscape
The hike went a bit further up the mountain this time and at one point we got out of the dense forest and all of a sudden had a beautiful few over the mountains. I loved the old crooked tree in the foreground. It has so much character and seemed like it wants to tell a story by itself. Seeing a tree like that always makes me wonder how long it has been there and what its life story has been.
Mount Kinabalu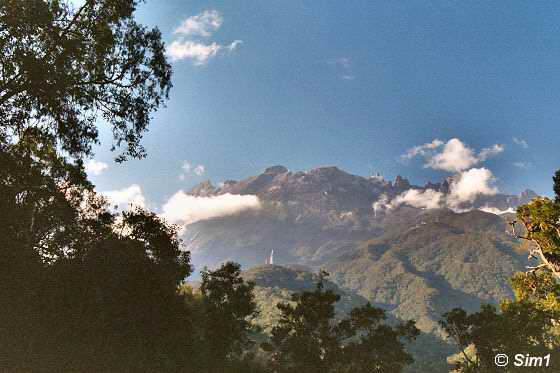 Mount Kinabalu
We walked a bit further up and all of a sudden, there it was.... Mount Kinabalu! Through an open spot in the trees I could see the impressive mountain.I stood there in awe and looked at the mountain. It is so impressive!
I felt so lucky to be able to see the peaks of Mount Kinabalu! I heard that there are often clouds surrounding it, making it impossible to see. But luck was with me and all the time I was at Mount Kinabalu I had clear skies and wonderful views over this impressive mountain.
The top of Mount Kinabalu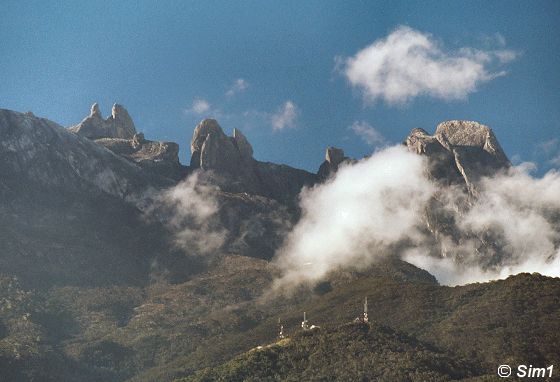 Mount Kinabalu
Mount Kinabalu is not just a mountain, it is the highest mountain in South East Asia. The peak of the mountain is 4101 metres high.
And it is not only the highest mountain between Himalayas and New Guinea, it is also a Unesco World Heritage Site. The reason for that is because it has a very wide range of habitats. You can find anything here from rich tropical lowland, hill rainforest, tropical mountain forest, sub-alpine forest and scrub on the higher elevations. You can find examples of flora here from the Himalayas, China, Australia, Malaysia, as well as pan-tropical flora. What more can I say.... it is beautiful here!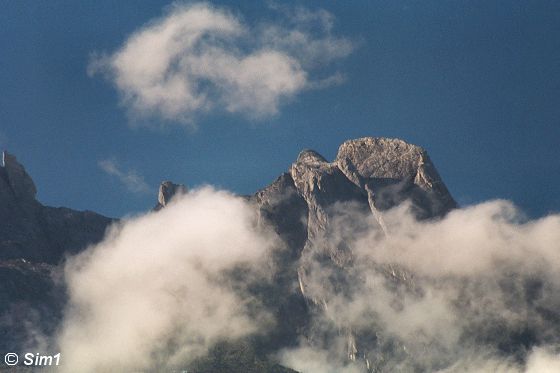 Mount Kinabalu
As you can see in this photo and the previous, I loved trying out my zoomlens here. The mountain peaks were so fascinating. It was great to look through the lens to have a closer look at those mountain peaks.
Soooo beautiful!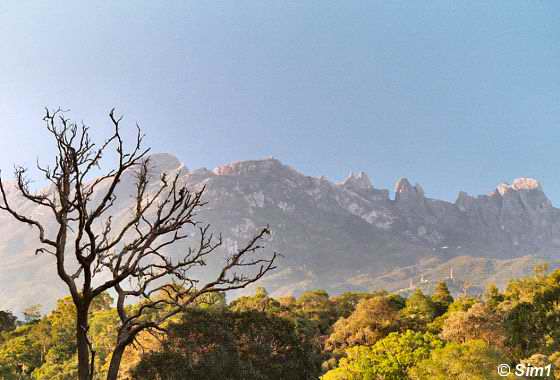 Mount Kinabalu
We continued our hike. But I couldn't keep my eyes off Mount Kinabalu. It is so amazing how walking for a little bit can totally change the view over the mountain. Another view, another click with the camera another deep sigh and me mumbling again.. Soooo beautiful!
Phew, time for a rest!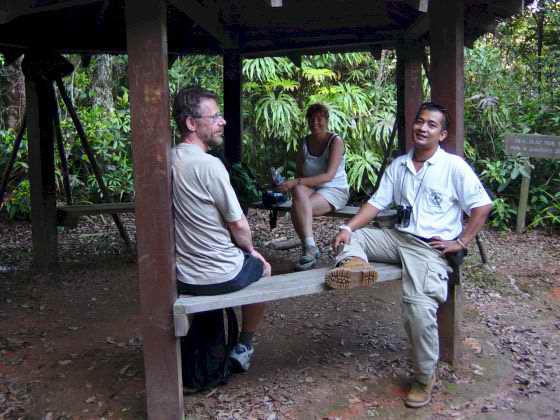 Phew, time for a rest!
Here I was thinking we were almost back at the parks office. But oooops.... how wrong I was! Instead of taking a trail down back to the parks office, we made a steep climb higher up the mountain instead. Puffing behind the guys I tried to work my way up the hill. Hahaha, so nice of our guide 'One' to suggest a little rest for the group pretending he was a bit tired. Hahaha, I can't say how grateful I was for this little break on our walk :-))
One more look at Mount Kinabalu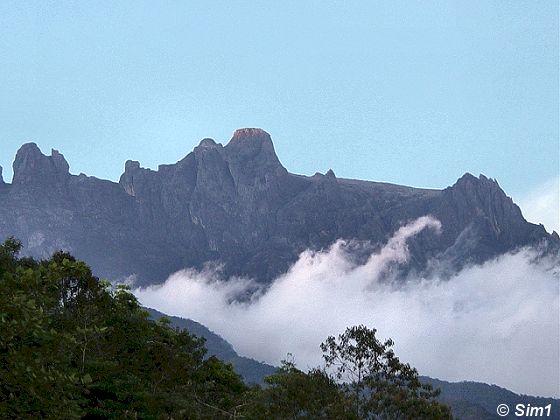 Mount Kinabalu
From now it was only downhill on our way back. The evening clouds were coming in and it was getting rather dark in the forest. So no chances anymore to take any photos. At the end of the hike I took one last look back at Mount Kinabalu. The clouds were starting to surround the peak of the mountain, soon the view would be gone.
Evening clouds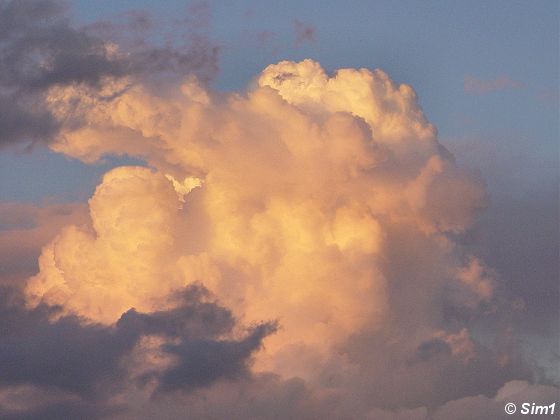 Evening clouds
We are back at our lodge and it is time to relax a little bit. Sitting on the deck we enjoyed some beautiful views over the surrounding area and Mount Kinabalu. The sun was setting, but unfortunately not visible from where we were. I could see the orange coloured sky reflecting in some of the clouds though, giving the sky this warm and wonderful glow. The night will fall soon now and quick. The sun seems to go down here so much faster here than in Sweden.
Jungle cocktail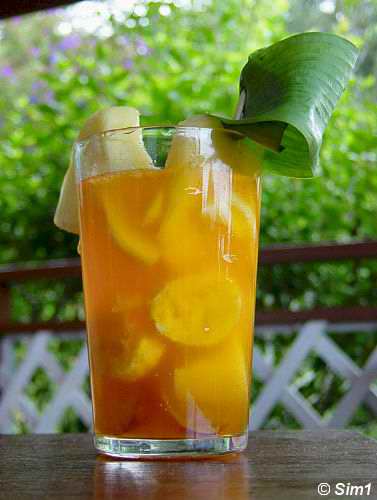 Jungle cocktail
The only nightlife at Mount Kinabalu are the cicada. The noise they make is amazing! In the total silence surrounding you, you can here their 'songs'. We had fun sitting on the deck identifying different species. They all sounded different, but wow, with a lot of volume! One of them sounded like a 'guitar' while another one sounded more like the generator, LOL, as you can imagine, not one of the most 'poetic' sounds around ;-)
The drink we invented was the 'jungle cocktail'. There is not much you can buy here, so don't forget to bring a supply of drinks with you. We mixed up what we had on stock, orange juice, a splash of rum, and lots of different fresh pieces of fruit. All garnished charmingly with a creative leaf :-)) And yep, it tasted great!!! :-))
The trip continues....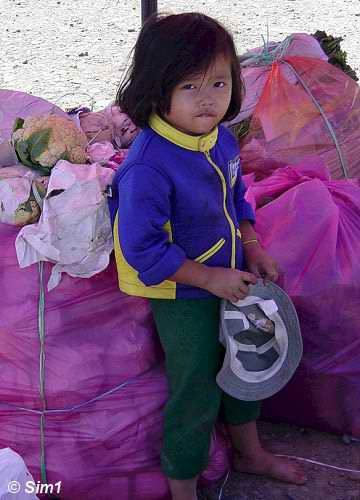 Little girl at the fruit market in Kundasang
My trip to Mount Kinabalu has come to an end, but my Borneo adventures continue!
The previous leg of my journey was a visit to Brunei.
From Mount Kinabalu I am heading to Kundasang where I visited a fruit market and a war memorial. From Kundasang I also had some wonderful views over Mount Kinabalu.
I hope you will join me on this virtual trip and enjoy reading my travel stories and see the pictures. For me it has been fantastic to write about my journey because it has made me relive the trip once again :-)