Roundtrip Borneo, June 2004
Kundasang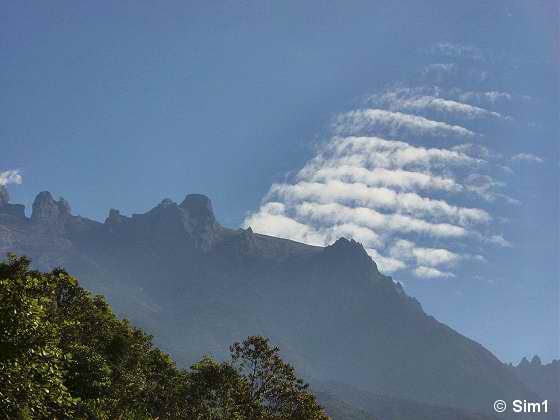 Mount Kinabalu
Good morning! After a little breakfast I am sitting on the deck at Mount Kinabalu. The plans for today are a visit to Kundasang and to Poring Hot Springs. But it is still early in the morning and before we go I have some time to spare and write in my diary. I have to admit that I have been neglecting it so enormously the last few days. But this morning is just a wonderful morning and a great moment to share some of my thoughts on paper :-)
The sun is shinning brightly and I am sitting on a sunny part of the deck. I can see the top of Mount Kinabalu from here while I listen to the cheerful sound of the many small birds and the noise of the cicada. Hahaha, I don't know how I can write while I am distracted by all this beauty surrounding me! The birds, the flowers, the sun, all the various sounds of the tropical forest, and of course the sight of Mount Kinabalu, made this a wonderful start of the day.
Beautiful Flowers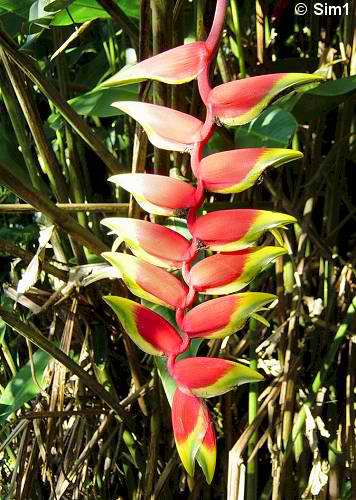 Beautiful flowers
Åke went for a nice walk, while I was being lazy on the deck. I had no idea where he was heading for until he got back. He remembered how I pointed out the flowers below our deck the evening before. But 'below' our deck wasn't so close by as it sounds... oops....
Åke made quite a detour to get there and when he got here had to face a 'not-so-friendly' dog. But he 'survived' it all and made this beautiful photo for me :-)) Isn't it a beautiful flower! I think it is called "Lobster Claw".
Where is Kundasang?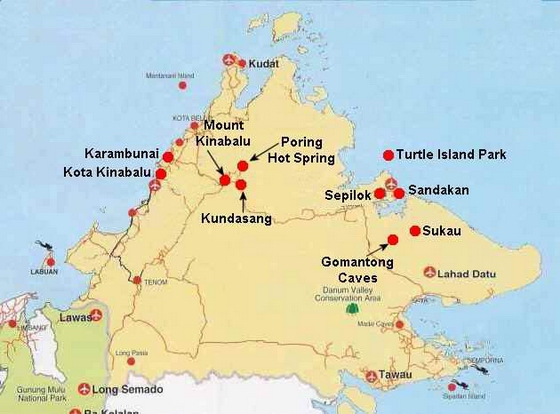 Map of Sabah
It is 9 o'clock in the morning; time to get on our way. The minibus is waiting outside and we are off to our first stop Kundasang! But where is Kundasang exactly.
Kundasang is in the State of Sabah on the northern end of the island of Borneo. It is located between the entrance to Kinabalu Park and the village of Ranau. When you click on the map you get an idea where it is located.
Kundasang is easy to reach. Just follow the road from the capital of Sabah: Kota Kinabalu to Kinabalu Park. Follow this road towards Ranau and you can't miss seeing the market of Kundasang on your left hand side.
Arriving in Kundasang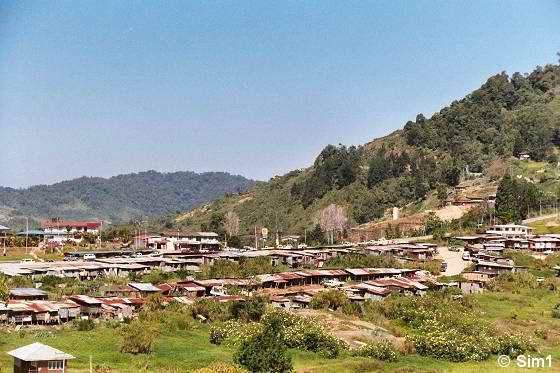 Kundasang
It was only a short drive with the minibus to Kundasang. And the view.... wow, fantastic! I took this photo when we arrived in Kundasang. In the foreground you can see a part of the village of Kundasang surrounded by farmers fields. And in the distance the always impressive Mount Kinabalu!
A beautiful sunny day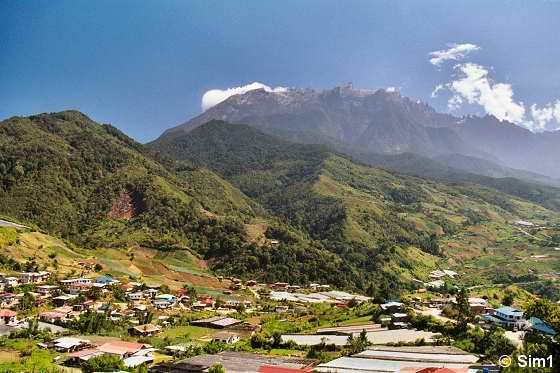 Kundasang
We were so in luck to have another one of those fantastic sunny days! Oh yes, it was hot outside with the sun burning without having any mercy. I guess it must have been well over 30 degrees that day. And yes, I would complain about that later on in the day, hahaha, but just right now it was perfect!
The market at Kundasang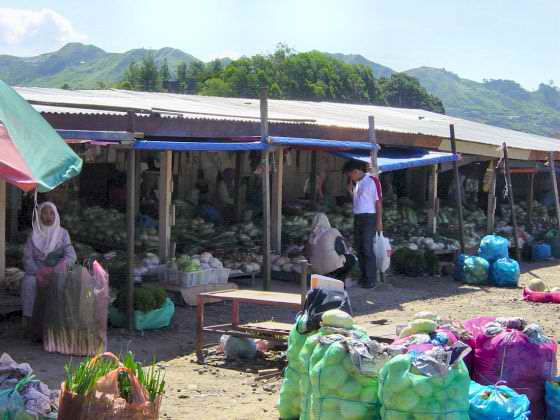 The market at Kundasang
We started off with a visit to local market of Kundasang. It is a big market which apparently goes on the whole day long. Yes, I know what you are thinking: a fruit market is a fruit market. And you're right! But.... for me this is a totally other world compared to Holland and Sweden. So I had fun walking around and taking in the different sights and sounds of this place.
Fruit, fruit and more fruit....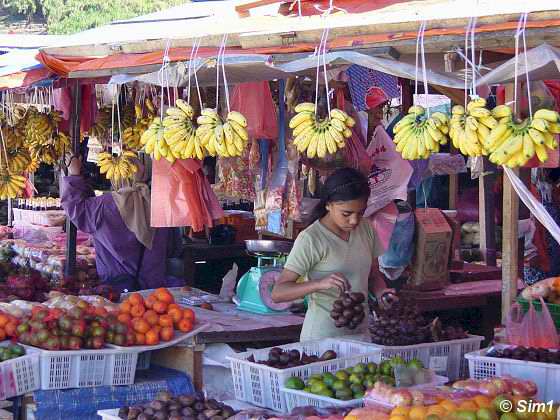 The market at Kundasang
One thing I enjoyed a lot was walk around and take a look at all the different things they were selling. So many things we don't have in Sweden. I was amazed by some of the fruits, some of them I had never seen before in my life.
You can find a lot of these fruit markets along the way, but the one in Kundasang is really big. These markets are great places to stock up on some fresh fruits as a snack during the day and evening. Delicious!
Fruit ready for transport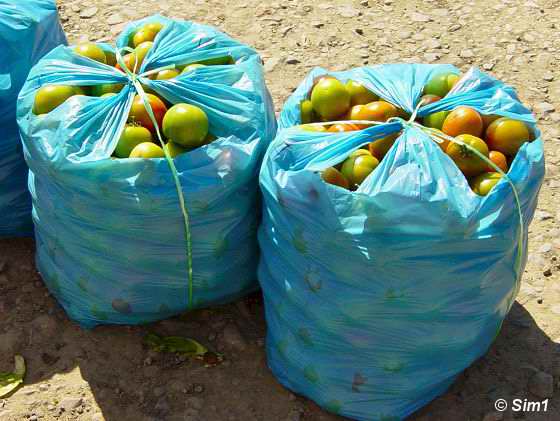 Fruit ready for transportation
The area around Kundasang is very fertile and all the products sold on the market are from this area. While wandering around here I saw a lot of market stalls selling the fruits directly to the people. But when I walked further on, the market started to change slightly. Instead of fruit stalls there were many places were they were making these big bags full of fruits and vegetables ready for transport.
Kundasang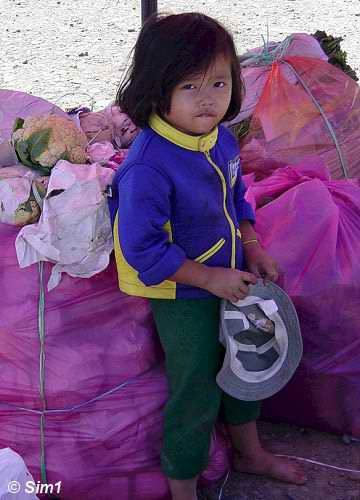 Shy little girl
I love to walk around in places like this and just take in the atmosphere. It's great to see all the different things they are selling, to watch the people and the difference in cultures.
Under a colourful umbrella, protected from the burning sun, I saw this shy little girl. She looked so cute! I just had to take a photo of her :-)).
'Strange' fruits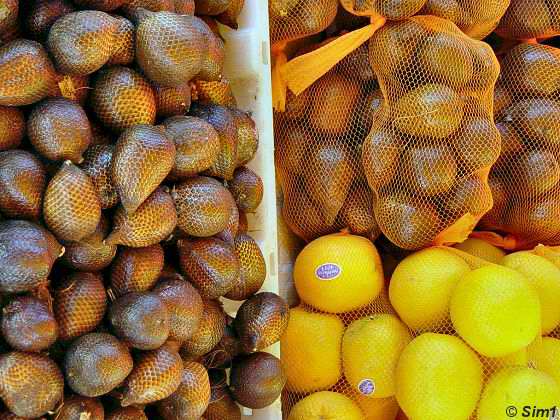 Snake fruit
One of the strange and 'unknown to me' fruits I saw here on the market was the snakefruit. The snake fruit grows in clusters at the base of the palm. And why it is called this way.... well, that's no surprise. The skin of the fruit is very thin and reminds a lot of the skin of a snake.
Of course I had to try a snakefruit! And it tastes delicious! :-)) It had a nice 'tropical' taste to it. Peeling the fruit is a bit tricky though. But luckily we had our guide 'One' around to help us out and tell us how to do it. When you have peeled the fruit, you'll notice a thin little skin still surrounding the fruit. Just rub that off with your finger and the snakefruit is ready to eat. Watch out for the seeds! You can't eat those.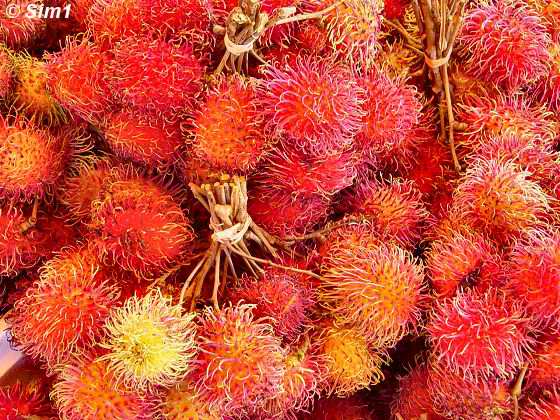 Rambutan fruit
This fruit caught my attention because of its wonderful colour and prickly shape. These are rambutan (nephelium lappaceum). They don't taste bad, they reminded me of lychees. Hahaha, but I found them more fun to watch than to eat :-))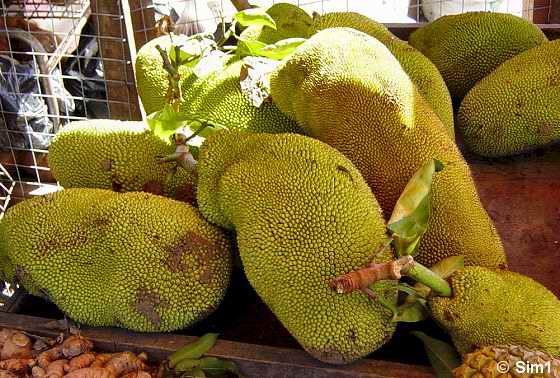 Jack fruit
Okay, one more 'strange' fruit, hahaha, for me anyway. This is the jackfruit, and it is huge! I think it is the largest fruit you can find. I have no clue how it tastes though, or how you can eat it. But 'different' it is for sure. Besides that I saw lots of other fruits, vegetables and spices.
One fruit I didn't try was the durian. I had read so much about this fruit, that of course I had to try it. But... but... somehow I never got round in doing so. I guess I have to wait for a next trip Asia :-))
Local life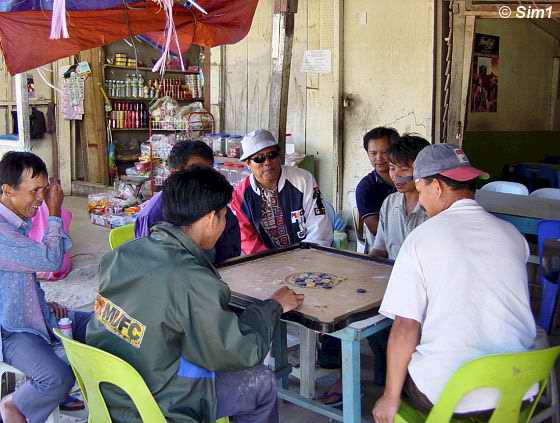 Playing a board game
At the end of the street I saw this group of men playing some sort of board game. They seemed to have a lot of fun playing it. They didn't mind us watching them for a while and me taking a photo. Hahaha, I guess they were too much caught up in the game to really notice it anyway ;-)
Streets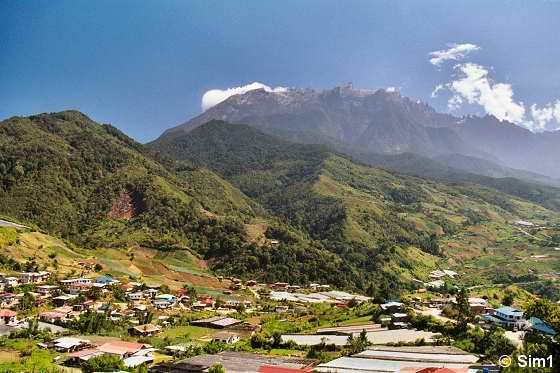 A street in Kundasang
The streets in Kundasang were not that impressive. At least in the part where I was. This is still the market area, but away from the 'main street'. The road is bumpy and on either side you can see the little shacks of the market. Quite a few pick-up trucks were driving around here, full with local produce or with some people in the back of the truck.
Kundasang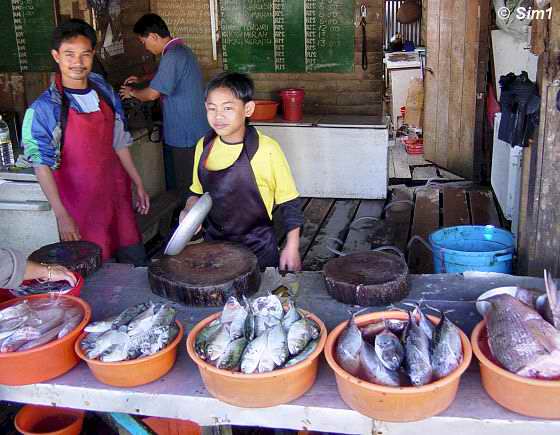 Selling fish
In this more quiet part of the market, around the corner of the fruitmarket, they were selling fish and meat. On the one side of the street it was life chickens that they kept in cages. And on this side of the street it was fish, fish and more fish.
The owner of this fish stall was clearly proud about his fish. They seemed so nice and friendly and so proud of their shop, it made me wish I needed to buy some of their products. Now if they were selling fruit, hahaha, I wouldn't have to think twice. But I had no use for fresh fish at that moment ;-))
Uuuh.... maybe not ;-)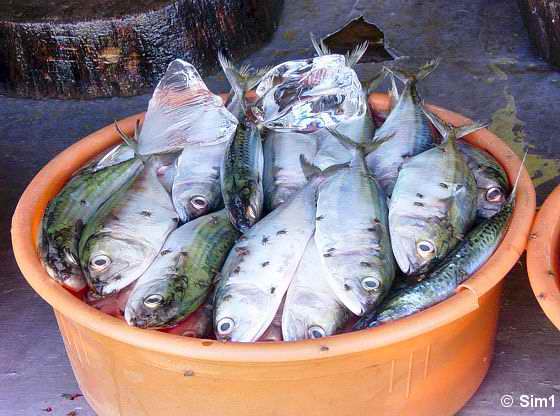 The fish
After a bit closer inspection of the fish I decided that it maybe was good that I didn't need to buy any fish. The flies on top of the fish that seemed to have a good time there, which didn't seem like the most hygienic circumstances to me. I guess even buying fish was a bit of a culture shock for me, LOL :-)) This was totally different than those well-refrigerated fish I am used to buy at home. Hahaha, but then again..... I probably would be eating this very same fish tonight at dinner at the lodge, like I had done every evening during my trip in Borneo. And I can happily say that I haven' gotten sick of it at any time, so it probably wasn't that bad as it looked ;-)
Woman on the market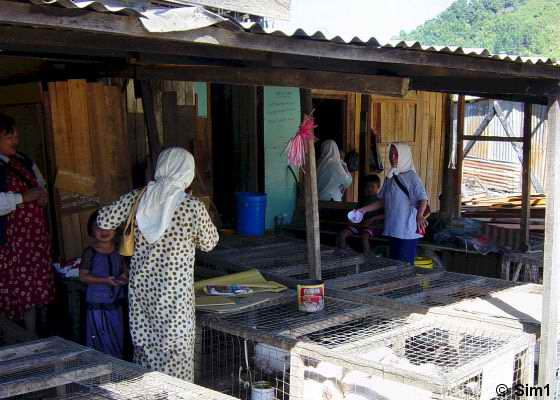 Woman on the market in Kundasang
Sabah is a region of many cultures and religions. Muslim is one of the biggest religions around here and you can see many little mosques in the villages. But it also shows in the way people dress. I saw lots of woman walking around with shawls covering their heads, like these woman in the picture. But as there are so many cultures around, I could see a great variety in the way people dress. It was really interesting to watch.
View from Kundasang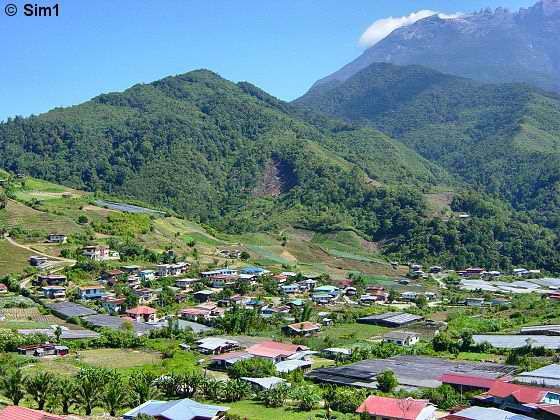 View from Kundasang
It was time to leave the market and go to the war monument here in Kundasang. On the way over there I couldn't help but being 'distracted' by the beautiful view on the surroundings. It is so breathtaking! My camera just needed to click, click and click again :-))
Kundasang Memorial Garden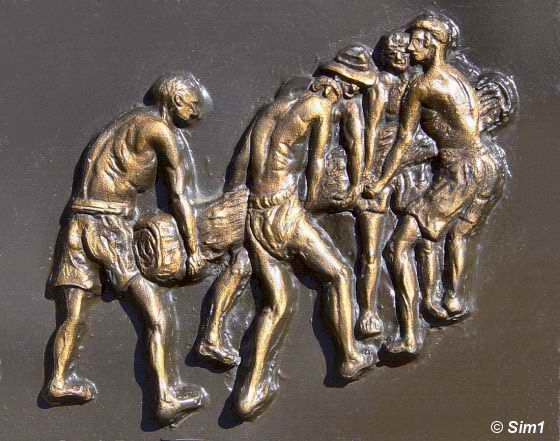 Plaque at the Kundasang Memorial Garden
In Kundasang you can find a war memorial to commemorate the people that died here during World War II. It is a sad story to read on this plaque and it moved me very much bringing tears to my eyes.
The Kundasang Memorial Garden was build and funded in the late 1950's by the people of Sabah. It is dedicated to 'those men and woman of all races that gave their lives for and in Borneo during the war'.
Kundasang Memorial Garden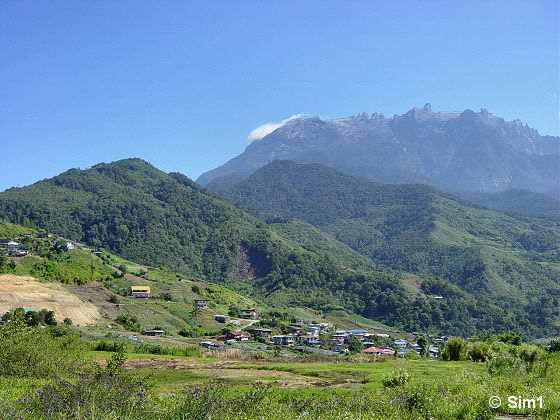 Kundasang Memorial Garden
The reason why this place was selected is very touching. Here, in the shadow of Mount Kinabalu, many of these prisoners of war died. According to the local custom, the by clouds surrounded mountain harbours the souls off all those who have died. And the views from this place over the mountain are breathtaking. The mountain feels so near. A worthy place for this war memorial.
Beautiful views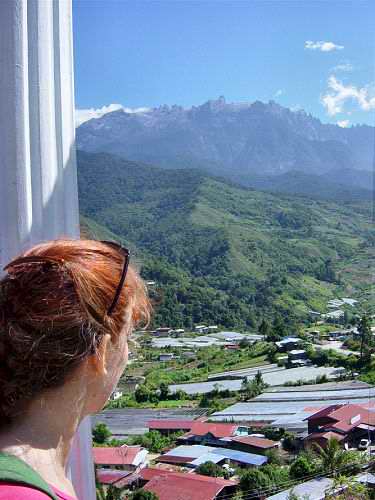 Enjoying the beautiful views
You need to climb some stairs to get to the War Memorial Garden. The garden is made of several plateaus with nice gardens. When you reach the top of the garden, you come to this wonderful viewpoint. It was so amazing to sit here on this wonderful sunny day and having this amazing view over Mount Kinabalu and surrounding area. This was a moment I think that I'll never forget.
Zooming in....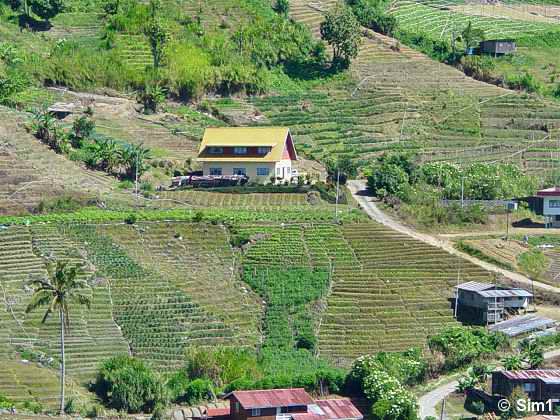 Zooming in....
Zooming in with my camera... It is great to have a zoom lens that can bring everything so much closer. I just clicked around a bit with my camera to capture parts of the surrounding landscape, and bring home with me some of these wonderful views and memories. Borneo and Mount Kinabalu, a place I won't quickly forget.
Enjoying the moment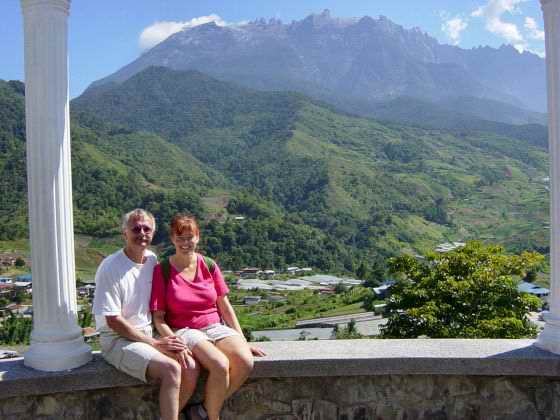 Åke and me :-)
We all enjoyed this moment at the Memorial Garden, sitting, relaxing, enjoying the wonderful view. It was sad to leave, but of course we couldn't stay here for the rest of the day. 'One' our guide had more in store for us for the day, so the trip continues. Our next visit is going to be to Poring Hot Springs. But that is another story on another page. I do hope you enjoyed reading this one.
The trip continues....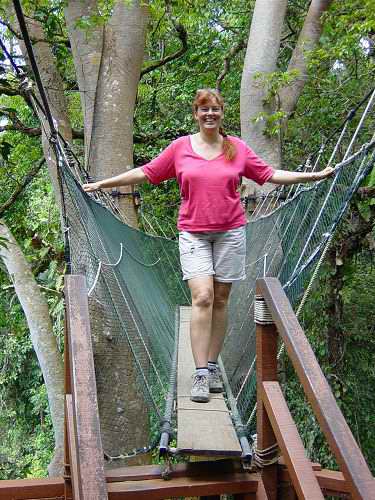 Canope Walk at Poring Hot Springs
The previous leg of my journey was a visit to Mount Kinabalu, the highest mountain in South-West Asia.
From Kundasang with its lively local market, its war memorial and wonderful views over Mount Kinabalu, it is time to be heading to Poring Hot Springs. You can read all about this place on my next page.
I hope you will join me on this virtual trip and enjoy reading my travel stories and see the pictures. For me it has been fantastic to write about my journey because it has made me relive the trip once again :-)