Roundtrip Borneo, June 2004
Poring Hot Spring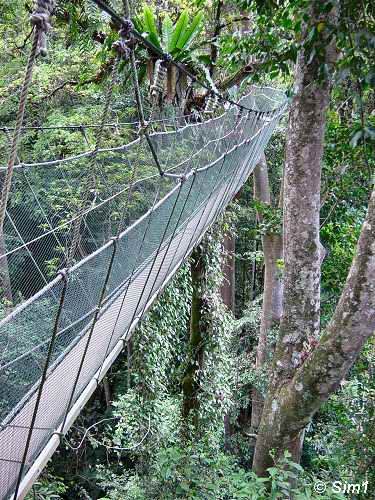 Poring Canopy Walkway
Welcome to Poring Hot Spring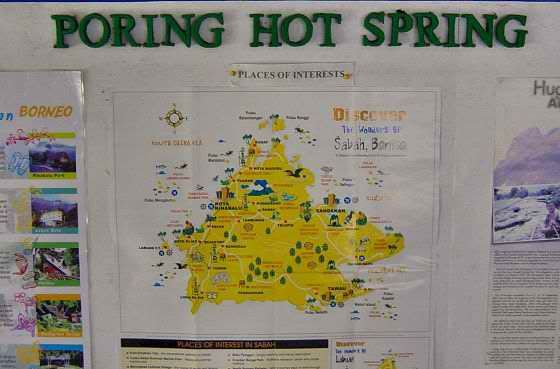 Welcome to Poring Hot Spring
After having had a wonderful morning in Kundasang, we are now on our way to Poring Hot Spring. Poring Hot Spring is most known for its open-air Japanese-style baths. It attracts quite a few people and can be very busy at times. It also is a bit of a tourist trap. Hahaha, in my opinion anyway. But despite it being a bit of a tourist trap, I had a great day anyway :-)
There is more to see and do here than only the hot springs. For me the highlight was the hanging bridge, so that is what most of this page will be about. But I'll also give a general impression of the place and tell you about all the things you can see and do here. I'll hope you enjoy reading my personal story about my visit to Poring Hot Spring.
Huge Bamboo

When you enter the Poring Hot Springs area, the first thing you'll notice are these huge bamboo plants. You can see in the picture how tiny I am compared to those bamboos. I thought they were so impressive.
If I remember correctly it is these bamboo plants that have given this place its name. In Malay 'bamboo' is 'poring'. Please tell me if I am wrong or right about that! Hahaha, I was too busy looking at everything around me to remember correctly what our guide was talking about ;-))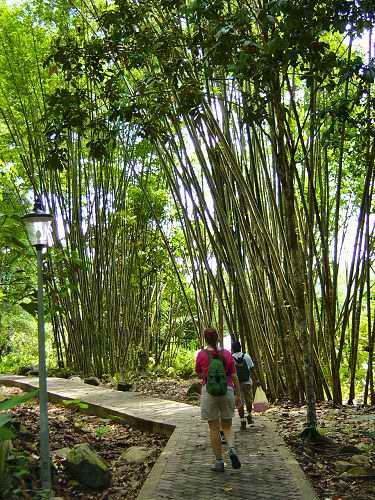 Huge bamboo at Poring Hot Spring
Where is Poring Hot Spring?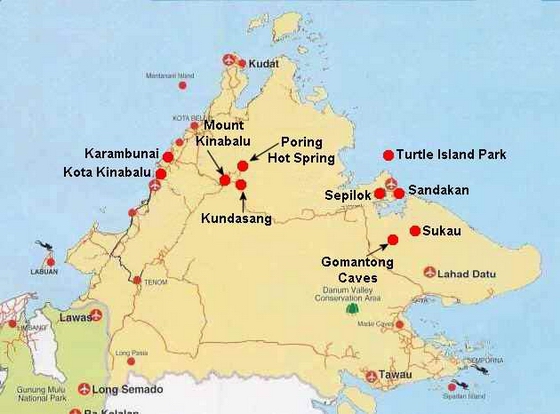 Map Sabah
Poring Hot Springs is part of the Mount Kinabalu Park. The Park headquarters is situated at the southern boundary of the Park. The park is easy to reach, it is about 110 kilometres from the capital of Sabah: Kota Kinabalu.
To get to Poring Hot Springs, follow this road for a further 24 kilometres until you get to the small town of Ranau. From there is is another 19 kilometres northwards and you'll get to Poring Hot Springs.
Banana flower


Banana flower
While walking the trail to the hot springs of course I got distracted by everything I saw around me. This banana flower for instance. I know bananas, but this was the first time I ever saw a banana plant flower! I thought it was rather beautiful. It is so enjoyable to walk around in a totally new place with so many different things to see.
But lets focus now, the plan for today is first of all visit the hanging bridge. The bridge makes you able to walk in the treetops. Wow! The hanging bridge was constructed here to help with scientific research of the rain forest. This gave the researcher the unique opportunity to study the life high above in the treetops. But since a few years the hanging bridge is now also open for the tourists. And this gives the unique opportunity to see the rain forest from a totally different perspective.. from high above in the trees!
Climbing up the stairs

The bad news about going to the hanging bridge is that it is HIGH up in the tree tops. So this means you have to climb up yourself a lot before getting there. You have to climb this steep set of stairs to get there. And in this tropical heat that is not the easiest thing to do.
Would it be worth it? Would I dare to walk on the Canopy Walkway?......

Climbing up the stairs
Chameleon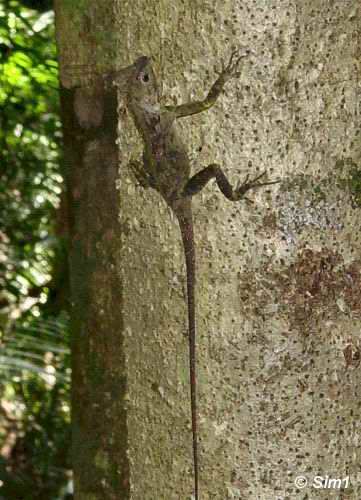 Chameleon
Halfway the top I felt exhausted and we took a little break. And while I was puffing and gasping for air, our guide spotted this chameleon clinging to a tree. It was brown and very well camouflaged. It didn't move at all, pretending not to be there, but it couldn't fool the sharp eyes of our guide!
I have to admit that I would have walked passed by it without knowing it was there, if they hadn't pointed it out to me. It was wonderful to see, but awfully difficult to take a picture of. With its camouflage colours in a rather dark spot clinging to the tree, it took me several attempts to get my camera steady enough to make a good picture of it.
No need to worry......


Notice at the Canopy Walkway
We are at the top, I made it! I can see the Canopy Walkway hanging above me. And in front of me is this reassuring sign, telling me not to worry......
Because it has a....
- Polyester rope with 5 tons strength.
- High quality cable with 10 tons strength
- Aluminium ladders
- Nylon net
Well, I have to admit that that sounded reassuring.... but... but....
Poring Canopy Walkway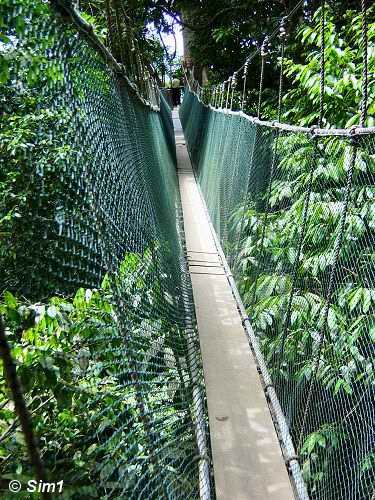 Poring Canopy Walkway
But standing up here, looking at the Canopy Walkway, I couldn't help to have this weird sensation and being nervous. No matter what they say or reason, this is high! Eeeeks!!! This is a rope construction in the top of the trees! No matter what you say, hahaha, you can't reassure me! This looks scary! ;-)